ERHS Varsity Volleyball team lose semifinals but not spirit
Hang on for a minute...we're trying to find some more stories you might like.
Eleanor Roosevelt's volleyball season ends, after their last game at the state semi-finals Monday, November 12th. The varsity volleyball team played against on Urbana (Ijamsville, MD) losing by a score of 3-0.
The team was on a winning streak, only losing one other game before this at match against The Academy of the Holy Cross (Kensington, MD) by a score of 3-1.
"They won every game except for one other one and this semi finals but the games they lost were very close, so I still felt proud" said Sophmore, Janette Nguyen a JV volleyball player at ERHS.
"In PG, not a lot of girls play club/travel volleyball, so the game is slower paced in PG. When we play teams from these other counties or private schools, those girls have a leg up on most of us…a lot of them play club and travel, and they play for some of the best teams in the area and in the nation," senior Olivia Joachim explained.
However, even with this setback, it is evident the team is very proud, "At first I was disappointed with the outcome…but looking back at the game we all played extremely hard in the last two sets and we fought for everypoint…I am very proud with all teammates" said senior Mya Mitchell.
Many teammates used their loss as experience, said Joachim, "I think that for a lot of the team it was their first time even seeing volleyball played at such a high level for our age."  
She continued, "I think all in all, it was a great experience for all of us to have…Going forward I hope the girls keep pushing and keep going far into playoffs."
With the seniors leaving, Mitchell said their faith in their teammates never faltered with "The juniors and sophomores who will fill the roles of the seniors are exceptional players…they will learn from this expirenceand push themselves even harder next year," she said.
Joachim added that one day "Roose will put PG on the map for Maryland high school volleyball."

About the Contributors
Sephora Sorto, Photo Editor
Photo Editor Sephora Sorto, a senior at Eleanor Roosevelt High School, is a passionate staff member at the Raider Review. She has always had a love for...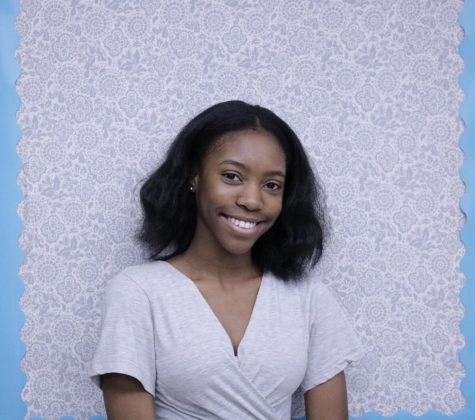 Philippa Roberts, Student Life Editor
Philippa Roberts, a senior at Eleanor Roosevelt High School, has never had a deep interest in English. "I'm just not an English person" were the...