Fine Arts and Music Depts Help Students Shine
In honor of Teacher Appreciation Week, The Raider Review  would like to express our gratitude towards the Fine Arts and Music Department. These departments are known to bring out creativity and self-expression in students, providing a space for them to take risks and try new things. 
It's no secret that our fine arts and music teachers take pride in guiding their students. Many go out of their way to connect with students on more personal levels.
 "I really enjoy interacting with my students and hearing what they think about life in general," says Mrs. Monique Connealy, an art teacher. When it comes to artwork, she states that "there's no better feeling than opening a kiln full of beautifully created ceramics pieces, or seeing my students' work hung up in the hallways or other art exhibits." She especially loves it when her students tell her "they're not creative or artistic, but then surprise themselves and make something awesome!"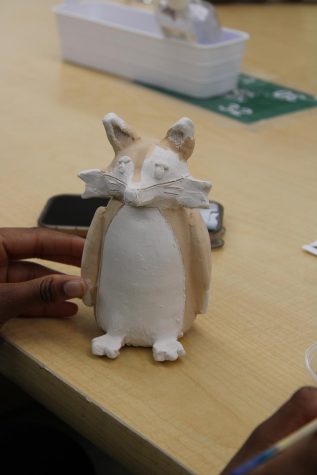 Dr. Elana Anderson, the Roosevelt dance instructor, shared that she "decided to teach dance to those students who were interested in the art form and to also share a clear learning of the art. I found myself to be an excellent communicator through dance."  She went on to say that the goals she has for her students after high school are "to find what they are passionate about and to continue with that as they grow within life."  She feels that all students should dance because "it helps with finding oneself, it gives people skills when it comes to timing, multitasking, and understanding the body."
Roosevelt's current band teacher, Ms. Rachel Zephir, sees the fine arts department as an opportunity to make "collaborative efforts for students to express themselves and accomplish a common goal." Her favorite part of being a band teacher is "creating unity and trust between people from many different backgrounds to make some beautiful music" The best part about being in a band with her is the connections you make "verbally and nonverbally" as well as the exciting challenge of "figuring out how to bring all the pieces of the puzzle together." Ms Zephir plans to join the University of Michigan in the fall to pursue her Doctorate degree and work with their marching band and chamber group. She will be missed, but the community at Roosevelt wishes her all the best!
Many students have taken fine arts and music classes to expand their creativity and have fun classes to look forward to. A few students have shared their thoughts and opinions on their experiences in these classes, as well as the impact of their teachers.
ERHS student Markele Thompson says  his media arts teacher, Ms.Batten, "believes in [students] and is very supportive." He also went on to say, "she pushes us to do better, and stay on task."
"One of my favorite things about being in choir is the different people you get to meet" and "the different styles of music that you get to go into," says sophomore Yoseph Vanterpool, the winner of this year's Roosevelt's Got Talent. "Choir isn't just one genre, you get to sing different types of songs and make it beautiful."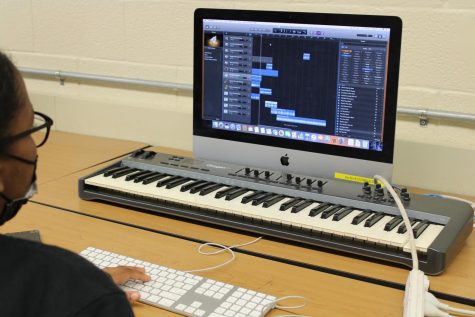 Choir student and senior Larissa Olson put it simply, "I love singing." When asked what she liked most about the class, she shared that she loves "meeting new people and being able to sing with different groups of people."
"You're able to communicate with other students who have a similar situation to what you're in," says orchestra student Brian Gonzalez. He adds that "we share the same struggle and that lets us socialize and have fun. It's a four-year class so you're able to really connect with [other students] and have a long-term friendship that you appreciate."
Savannah Wisman, a student here at Roosevelt, shared why she dances: "it is a way for me to express myself without verbally speaking. The atmosphere in dance is very positive, everyone is cool and they are very encouraging towards each other."
Though these are just a few highlights of our amazing ERHS Fine Arts and Music teachers and courses, The Raider Review wants to take this opportunity to thank every teacher who works so hard in this department. Students should join a Fine Arts or Music course to experience all they have to offer!