Eleanor Roosevelt High School Varsity Soccer Team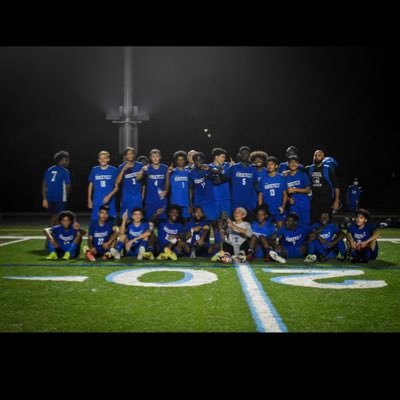 The ERHS varsity soccer team started off July 1 2021 against Bishop Mcnamara High School. Eleanor Roosevelt students have excelled this fall not only in the classroom, but on the soccer field. ERHS attracts talented students from throughout Prince George's County, putting together an unbeaten soccer team that has won the AA county title previous years ago.
George Kallas has been coaching the boys varsity soccer team for 36 years, with Tyler Pulik(Senior) as their captain. The varsity soccer team for ERHS does different types of training such as dribbling drills, turning drills, crossing drills, heading drills etc. The team also practices everyday from 3:20 pm to 5:00 pm out on the school's football field.
Medoh Opurum, a senior at Eleanor Roosevelt high school, plays as striker for the team. Medoh has played for the team for a very long time. He has enjoyed playing for the team and it has allowed him to express himself through playing because¨It allows [me] to express myself.¨
Eleanor Roosevelt has a rich history with their boys soccer teams. The boys soccer team tied for the Maryland 4A Championship in 1984 and has enjoyed several regional championships (1985, 1988, 1998, 1999, 2015, 2016). The team also has a fierce rivalry with Bowie High School. Additionally, both programs have seen many players continue their soccer careers by playing in college. The Raiders won the lone State Championship by a County team in 2003. The Raiders saw their state title hopes fall just short in 2005 and 2006. In 2005 they lost a State Semi Final Game to C.M. Wright on penalty kicks and in 2006 they lost a State Semi Final Game to Quince Orchard. This was a game that they thoroughly dominated, hitting the crossbar or post at least five times and conceding a goal on a miscommunication in the 2nd OT period.
The Varsity soccer team at ERHS has been doing a really good job in their classes, while also winning a lot of trophies and medals for the school. In that case, Roosevelt is able to attract from other schools in the county by getting good students who are also athletically inclined. Of the 24 players on the team, about 90 percent are in the advanced technical program. With such a great coaching staff and just a good overall background, this team will continue to keep going far.