Imara Roose Mentoring Organization Receives $25 Thousand Grant
The Imara Roose is an Eleanor Roosevelt High School (ERHS) mentoring program founded by CEO Halima Adenegan to aid young women of color in navigating school, college, and the workplace. Black and Brown women face systemic barriers in this country that they must tackle when it comes to academic and professional settings. It's not easy to handle these issues so it's very important for programs like Imara Rose to be created in order to guide young women of color to prepare for the rest of their lives. The $25,000 grant the Imara Roose program won from State Farm Neighborhood Assist will heavily impact the programs outreach and potential to continue helping young women of the Roosevelt Community. 
Ms. Adenegan stated in a ABC7 WJLA article written by John Gonzalez that "through workshops, field trips, and community service, young women of color are being prepared to embody and excel in a society where they will continue to face countless systemic barriers." With the money from the grant the Imara Roose can continue giving young women professional experiences with mentors that would be difficult to come across without the program. Ms. Adenegan wrote in a State Farm Neighborhood Assist article that Imara Roose is meant to serve "as a holistic, inclusive, and transformative resource by women of color, for girls of color." The program offers activities such as "Mentor Mondays, College & Career Readiness workshops," and a "Career Exploration Series." 
Imara Roose was founded in 2011 and since, many young Black and Brown women of the Roosevelt community have joined the mentoring program. Victoria "Tori" Simmons, a student member of Imara Roose, said she decided to join because she knew she "needed help with the [college] application process and [she] also wanted to hear from other black women who have already gone through college." A special perk of such a unique program like Imara Roose is that it's run by Black women, so young Black women who need specific questions answered can hear about their mentor's experiences. The young women can also receive advice for their future from people who understand their issues and have faced what they will face moving forward. Tori explains during the twice a week Imara Roose zoom meetings they "give presentations about different subjects like beauty standards, colorism, bias in the workplace, college applications, scholarships, etc." She includes that they host "very fun and interactive" activities such as "playing jeopardy, [writing] verses to rap songs, [having] a pajama contest, and more." Tori is excited to add that her mentor is "great for talking about college because she's a black engineer and [Tori's] also majoring in engineering!" Tori's message about Imara Roose for any young black women "especially freshman and sophomores" is they "should look into Imara Roose because they give great advice and are a good resource of black women to speak to for guidance or just for a fun conversation."
About the Contributor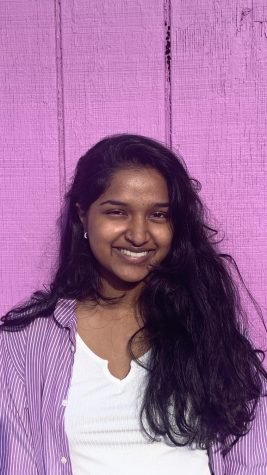 Thanusha Ragunanthan, Design Editor
To Thanusha, journalism signifies the truth. She likes the idea of unbiased reporting and letting people make their own opinions based on facts. She wanted...