Booming Businesses?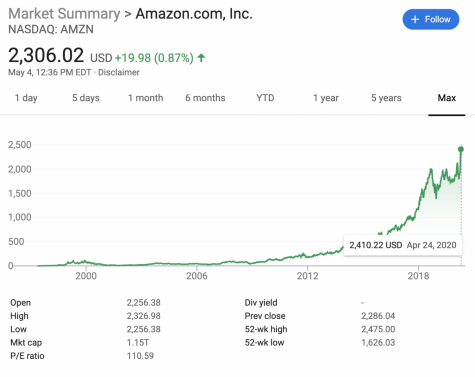 With the Covid-19 pandemic shutting down businesses, an integral part of our economy, many stocks have been rapidly declining. The S&P 500 Index — a stock that is calculated based on the overall performance of the top 500 companies — went from around $3,300 in February to $2,300 in March. That is at least a $1000 loss per share and a 30% drop in price! As of May, it has risen up to $2,800 but it is still nowhere near its former value. 
With the government restricting international travel, The International Air Transportation Association has stated that U.S. and Canadian airlines could lose $2.1 billion dollars in revenue. The reduction of travel has also resulted in less business for hotels. According to research firm STR, U.S. hotels have seen a drop of 11.6% in revenue per room during early March. This has resulted in less need or ability to pay workers, increasing the unemployment rate.
The sports industry has been hit hard as well. FiveThirtyEight — a website that analyses topics ranging from politics to sports — has estimated that up to $650 million could be lost in the NBA, $450 million coming from ticket-sales excluding the lucrative playoff season and $200 million for NBA merchandise. 
Theaters have also had their share of decline during this pandemic on top of its already waning appeal. Amid the coronavirus pandemic, AMC stocks dropped to an all-time low of just above $2.00. Theaters around the country have cumulatively laid off over 25,000 employees, and a multitude of potential blockbuster movies such as "Mulan" and "A Quiet Place II" have been pushed back, affecting film companies alike.
But even with the economy being hit hard, there are some companies that have been doing exceptionally well. With the advent of tech companies that can provide people their service without leaving their homes, many of the biggest tech companies have seen relative stability in stocks. Amazon, in particular, has done exceedingly well, reaching an all-time high of $2,410.10 per share. 
Some online movies and movie services have also benefited from the virus. "Troll's World Tour", a movie that was set to be released in theaters, has since exceeded expectations after its online release, getting over $100 million dollars in its first three weeks versus its predecessor's revenue of around $153.7 million dollars(domestic theatrical release). While this trails in comparison to the original, profits may be similar to the original movie as the respective studios share none of their profit with theaters.
Netflix has also benefited from the virus, reaching a peak stock price of $424.99 per share. Their user numbers have also reached a peak, garnering 183 million total users after gaining 15.8 million new customers. In addition, Netflix has been giving more jobs instead of furloughing workers, hiring over 2,000 new workers for customer service.
While most companies and industries are struggling at this time, it's clear not every company is in deep waters.
About the Contributor
William Huang, Co-Editor-in-Chief
Co-Editor-in-Chief William Huang is a senior in the graduating year of 2021. He has been writing for Eleanor Roosevelt High School newspaper, The Raider...