As Trump faces Impeachment Inquiry, Students and Teachers React
Hang on for a minute...we're trying to find some more stories you might like.
On September 24, Speaker of the House Nancy Pelosi announced that the House initiated a formal Impeachment Investigation against President Trump amidst concerns over his phone call with the Ukrainian President. On October 31, the impeachment investigation moved to the next phase as the house voted to approve rules for the formal House investigation.
A non-verbatim transcript of this call was released to the public by the Department of Justice. In this call, President Trump demands the Ukrainian President, President Zelenskyy, to demand an investigation into his political opponent's son, Hunter Biden.
Following this phone call, the whistleblower, or person who reported what they deemed illegal activities, made their complaint. Many others have now come forward as well.
Here is a section of the transcript released.
"There's a lot of talk about Biden's son, that Biden stopped the prosecution and a lot of people want to find out about that so whatever you can do with the Attorney General would be great. Biden went around bragging that he stopped the prosecution so if you can look into it …"
Nancy Pelosi, Speaker of the House, launched the impeachment inquiry and has now has it passed a resolution to officially continue with the inquiry within the House of Representatives. This was passed within the House of 232 to 196. The House is majority Democrat right now and all but two voted for a look into the Impeachment inquiry, according to BBC News.
Mr. Matthew Levy, World History Teacher shared the steps to impeaching a President.
"The President needs to commit an act of treason, violating the Constitution after that the House of Representatives can hold an Impeachment inquiry. That is the stage we are at right now."
With "the inquiry the H the imouse of Representatives can investigate, find out, [and] look at the committees. They will present the information to the judicial committee and House of Representatives, that judicial committee will bring up and review all of the evidence that the inquiry brings up and the committee votes and sees if they have enough evidence to possibly bring up charges of Impeachment.
"They [will then] bring up the charges and then the entire House of Representatives will vote. If they vote to impeach the President, the President is impeached."
"After they vote for Impeachment to impeach the President, it goes to the Senate and then basically the Supreme Court Justices or the Chief Justice acting as the judge. They [will] basically hold the trial with the entire 100 senators as a jury."
"And then, ⅔ of the Senate needs to vote to actually find them guilty of Impeachment."
There are many steps involved in this long process, and "that has been the stage for two of the previous Presidents that we have had, that have been up for Impeachment, Andrew Johnson was impeached and Bill Clinton was impeached. Richard Nixon didn't get to that stage, he resigned before they could hold that vote." All previous Impeachments have not resulted in being also forcibly being removed by Congress. "They were found not guilty of their charges but not guilty to be removed from office."
Freshman Adrian Hayles voices his concerns, "how are you impeached and not removed from office?"
Many at ERHS including, Senior Mohammed Abbas think impeachment is "long overdue, Trump has done a bunch of impeachable stuff in the past. Like just a couple months ago, he was having like the military stay in his hotel like that's illegal because he's profiting off of the office of President. He's done a ton of illegal stuff and nothing's happened, its just dumb that [impeachment] didn't happen earlier"
As Democrats begin the impeachment inquiry against President Trump, a recent poll by Fox News shows that a majority of Americans at 51% want Trump impeached and removed from Office.
Over 66% of Americans think it was not appropriate for President Trump to ask Foreign Leaders to Investigate Rivals. However though these appear to be the current statistics, many are concerned that an Impeachment could destabilize the country. Abbas responds to these concerns however stating that "if you're not already politically divided then you're not going to become politically divided over this. It's been like three years of his sh*t, and it's been divisive for years, so if you're not already politically divided you're probably not going to be over this."
ERHS students and the American public watch on wondering whether the Impeachment Inquiry will pan out into something more.

About the Writer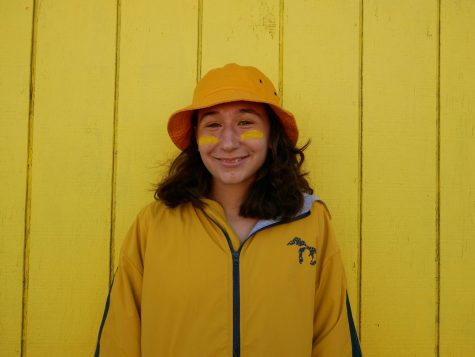 Louisa Ellison, Co-Editor in Chief
Louisa Ellison, is taking Journalism for the second year in a row.  She is taking Journalism with the hopes of improving her writing but also because...