Inside the Planning of High School Nation Concert
High School Nation is a school touring agency. They performed for ERHS's students this Tuesday, October 8th, to showcase artists from across the country. But how did this complex event all come together?
We asked Mr.Kevin Hawk, the organizer of the event. Mr. Hawk teaches the piano, guitar, and recording technology classes. He also is the chair of music, art, drama departments for ERHS.
He said that High School Nation had been wanting to come to Roosevelt for a few years but they were not able to book them due to issues with scheduling.
There were several benefits in  having them come. First, Hawk said that by having the different artists perform, students would see the importance of music and arts education in schools.
He also mentioned several other advantages of having them perform at ERHS.
"HSN [High School Nation] makes donates musical equipment to the school. We received a few microphones, an acoustic guitar, a large box of mic/guitar cables, microphone/keyboard stands. They will also make another donation at the end of the tour. Our students in journalism classes were able to do an actual press conference with the performers, tour manager, and crew. This was a great real-world activity for our students in the journalism classes."
This gave several students exposure to some awesome opportunities.
Mr. Hawk also included the challenges that came with planning such a large event.
"The first [challenge] was confusion in the actual date of the event. We were originally told that the HSN tour was coming to ERHS on Friday, Oct 11 however, when we received the confirmation email two weeks before the event was actually October 8th. So this delayed getting any information to the faculty and staff on the event. Also due to the police incident across the street, we had to move the event inside for student safety. Unfortunately, there were a lot of activities that the HSN couldn't set up due to the limited space inside of the gym. Overall, everything worked out and the students had a great time. "
Hawk said that he would invite the tour back to ERHS because "the students seemed to enjoy the event and many students were asking to have it back. "
He included "I had to work with a lot of people at ERHS to help make this event happen. Some of the people I worked with were Mr. McNeill (and administration), Officer Evans, Mr. Dent, Mrs. Ruoff (press conference), and Ms. Wright (yearbook). "
Mr. Hawk closed his interview with words of appreciation to the ERHS staff and students for making this event possible.
About the Writers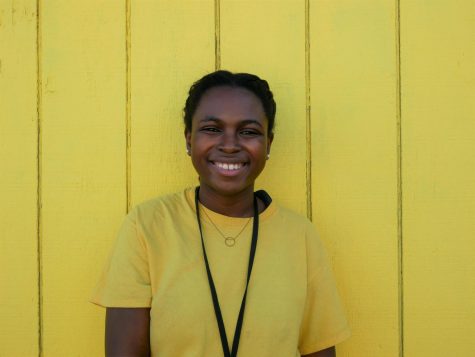 Nyla Howell, Managing Editor
Nyla Howell is a senior and a managing editor at ERHS. This is her third year writing for the Raider Review. She joined journalism to explore a different...
William Huang, Co-Editor-in-Chief
Co-Editor-in-Chief William Huang is a senior in the graduating year of 2021. He has been writing for Eleanor Roosevelt High School newspaper, The Raider...