Meet Ms. Sterling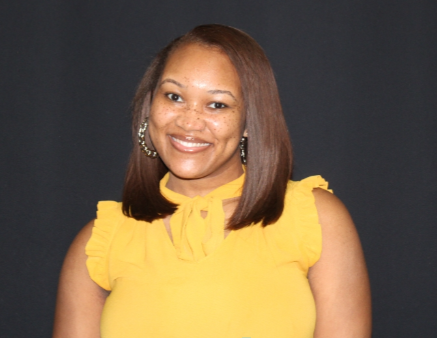 Ms. Angelique Sterling started teaching theater at Eleanor Roosevelt High School this school year and she is also the school's new Student Government Association (SGA) advisor. This means that most of the SGA-sponsored events that have taken place this year, such as homecoming and pep rally, are all thanks to her and our student leaders.
Ms. Sterling, or Ms. A., as her students call her, is a " Bowie State University Alumni, where [she] majored in theater with a concentration in acting and directing." Her theater journey started at Hyattsville Middle School, where she attended their Creative Performing Arts program for theater. Three years later, she was recruited for Northwestern High School's Visual Performing Arts department.
Once she began attending Bowie State University, she realized that she had a "love for education but a passion for theater." This influenced her to earn her theater undergraduate degree, as well as a master's in education, so she "can be a certified theater teacher." Now as Roosevelt's new drama teacher, she has never been happier. Teaching theater has been a lifelong dream for her and she "loves it, theater is [her] passion, and [she] loves teaching, so [she's] doing everything [she] loves to do."
Ms. Sterling has big plans for the future of the theater department, starting with the upcoming production of Seven Guitars by August Wilson, which will premiere in March. It will be the first full production in three years. "With the production comes a lot of ups and downs," Ms. Sterling noted. Her biggest accomplishment was "getting people to audition to be in it." She has now created a close-knit family of actors and stage crew members who are just as excited about the play.
Outside of teaching and theater, Ms. Sterling is also the school's SGA director and advisor. "Beginning SGA, as an SGA advisor here at ERHS, we are leaders." Being a leader is important to her, which is why she makes sure she's "learning with [her] student leaders, not just on how to properly represent Roosevelt, but also making sure that we are respectful to each other and keep an open mind."
Overall, Ms. Angelique Sterling is an awesome new addition to our school community and we are proud to welcome her with open arms as she continues to pursue her love for teaching, leadership, and theater.