The Power of Fashion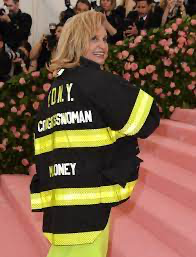 Fashion has always been an outlet for people to express themselves, but it can be questionable when politics comes into play. One might think that politics and fashion are two different industries that have no business combined. However, if done right, both can easily coexist and complement each other in ways that bring awareness to real-world issues.
The Met Gala is known for their extravagant themes while bringing in the most popular celebrities. Here, you can see these celebrities using the themes to convey a message through their pieces. At the 2019 gala, Rep. Carolyn B. Maloney wore a neon-yellow Vassilis Zoulias dress with a firefighter jacket that she vowed to wear until the passage of her bill for 9/11 first responders.
Roosevelt's Vice Principal, Ms. Jamall had her own opinions on this form of political statement, "In some regard, I believe this is an effective way of bringing change amongst certain issues because it gives them more attention, thus creating a wider audience that is interested in making a difference."
Although fashion can be used to bring change or awareness, celebrities often ignorantly make statements that can be seen as controversial. Givenchy Creative Director Matthew M. Williams made headlines back in 2021 when he sent models down the runway wearing necklaces that resembled a noose. Recently, Kylie Jenner was seen at the 2023 Paris Fashion Week wearing such a necklace. The media has described it as "disgusting" while also "triggering." Gucci put out a similarly controversial piece in 2019 when they debuted a sweater that referenced blackface. Each case shows how fashion's political implications can sometimes send the wrong message. Fashion not only serves as a form of self-expression but a way to educate and inform. As the world goes on, fashion will forever be used as a platform for politics.