Careers in Computer Science: What Students Need to Know
We are in the day of age where people have been replaced by robots; well not actually. Technology is the new basis of information. Whether it is the shining light emitted from your small cellular device or the electronic watches you slap on your wrist, you can see technology everywhere. The study of technological innovations such as computers is under the vast field of computer science, or comp-sci for short. Computer science is one of the top fields leading jobs across the world. There is a demand for more expertise in comp-sci in our modern-day society. If you have made it this far, you might either have a profound interest in this field or you're confused and you want clarity. Continue reading for fascinating information about what YOU need to acquire a computer science job. 
How Do I Get There? 
College Pathway
Many might ask themselves, "Well, what educational background is fundamental to obtaining a job in computer science?"
Firstly, make sure you have a good foundation in high school before you transition into college. Take some computer science classes such as Computer Science Principles or an intro to Computer Science course, to get a feel for it. Next, try out some computer science internships because they will often be a big determiner on whether or not computer science is for you. Some comp-sci internships include: 
 Anson L. Clark Scholars Program
Girls Who Code Summer Immersion Program
National Security Agency Student Programs.
Integrating into college, if you want to do comp-sci, make sure you are pushing towards a degree in that major. Take classes that bolster your coding knowledge (Python, Java, C#, etc). You will then decide on a specialty sector of comp-sci which will lead you down the pathway of getting certified. Resources like the scholarships below can help you access the right program at the right price. 
Computer Science Scholarships
Association for Iron and Steel Technology Scholarships: Awarded $12,000
Blacks at Microsoft Scholarship: Awarded $20,000 
Center for Women in Technology (CWIT) Scholars Program at UMBC: Awarded $80,000
Davidson Fellows Scholarship: Awarded $50,000
Other Pathways
Many mistake college as this big golden ticket to getting a comp-sci job, but in reality you don't need a degree to get a high paying programming job, especially if it is IT. College may not be the right fit for you. Just make sure you are getting experience in comp sci. You could be a web designer that has no degree but is extremely  successful. Taking online courses will also help you gain that experience for free.
Below are some free online coding classes to help you bolster your computer science experience
-Code Academy, Code.org, Skillcrush's FREE Coding Camp. 
Types of Jobs (Stats)
Computer Science can range from attacking unwanted intruders with digital protection in cybersecurity to the complexities of artificial intelligence (AI). The jobs under this major are endless. Listed below are the most popular computer science jobs in the field right now, according to Columbia Engineering
Computer Scientist: 

Data Analyst 

Data Engineer

Business Analyst

Data Architect

Web developer

Web Designer

Software Developer

Computer Programmer

Business Intelligence Analyst 
Salary
Many students work towards the vision of obtaining a job that not only interests them but is highly profitable. So, how much do these comp-sci jobs pay? The chart below shows the salaries for some.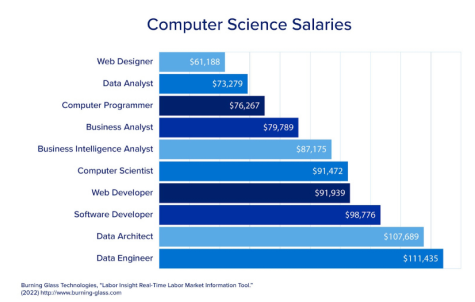 Conclusion
For more information please check out these resources: 
A High School Student's Guide to CS Programs and Internships
Resources for High Students to Learn Computer Science
5 Tips to Help High School Students Land Computer Science Internships
Survey
*Please fill out this survey, to give your input on what careers should be covered by The Raider Review*