Roosevelt's AFJROTC Volunteer with Wreaths Across America to Honor Fallen Soldiers
On December 17, 2022, cadets from Eleanor Roosevelt's Air Force Junior R.O.T.C unit, MD901, volunteered to lay remembrance wreaths on fallen soldier's grave sites at Annapolis National Cemetery. Cadets of all years were very excited to participate in the community service project, not only to honor those who have served but to exercise one of the main pillars of AFJROTC, service before self.
Honor Those Who Have Served
The event was among more than 3,400 locations across the country that conducted wreath-laying ceremonies on December 17th. The Annapolis National ceremony was a part of Wreaths Across America's efforts to remember, honor, and teach about those who have sacrificed to protect our nation. There were at least 3100 headstones recognized in the cemetery and adjacent Brewers Hill cemetery. The local event was coordinated by Staurt and Bob Rice.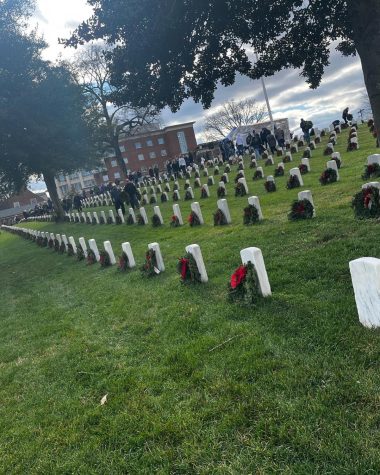 Service Before Self
Eleanor Roosevelt's Air Force Junior R.O.T.C cadets with almost five hundred volunteers consisting of active duty members, veterans, and members of the community worked hard to honor those who have served. Cadets from MD901 were forthcoming on why they volunteered for Wreaths Across America. "I'm just doing my best to honor those who have sacrificed their lives for this country…and am happy to be here today with my unit,"  said Jasper Rice. Cadets from Eleanor Roosevelt have been working hard in months prior o the Annapolis Nat. ceremony to fundraise for over thirty remembrance wreaths, all in honor of those who have served.