Reviewing the New Rare Americans Album, "Songs That Don't Belong"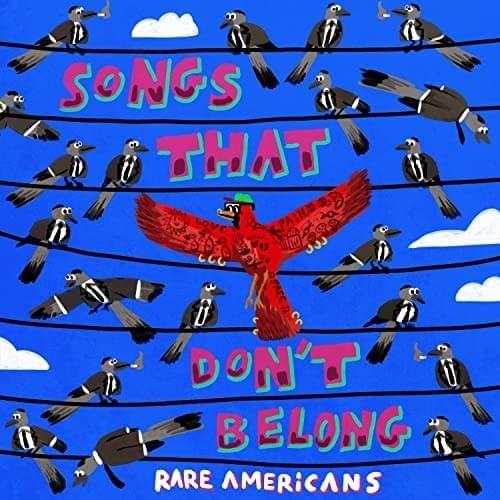 Rare Americans is a relatively small band Based in Vancouver, Canada. They describe themselves as "musical storytellers" and as a band they want their music to "give a voice to the underdog." They currently have 5 Albums, titled RA 1; RA 2; Jamesy Boy and the Screw Loose Zoo; You're Not A Bad Person, It's Just a Bad World; and 2022's "Songs That Don't Belong. Two of their most notable songs are "Brittle Bones Nicky," the song that threw them into the spotlight when it went viral on Youtube in 2019, and their song "Backup Plan," which was written for the Warner Bro's movie Scoob.
 At the time of my writing this article, their newest album, Songs That Don't Belong won't be officially released in another 17 days (on the 22nd of December) however, I was RA's #3 listener in the world this year, and as a gift, they sent me their album 20 days early so I could listen to it.
This is, in my opinion, one of RA's better albums, second only to RA2 and You're Not a Bad Person, It's Just a Bad World. 
Rating system:
Overall sound: 1-10
Energy: 1-5
Instrumentals: 1-5
Lyrics: 1-5
The story told by the song: 1-5
The total score can range from 0 (lowest) to 30 (highest)
Here is the Album if you want to listen along while reading the review: https://open.spotify.com/album/78G4G2UaOnJm2PZxWUqIna?si=BLsJViIqR3m4bFqlwuZvmA
Song #1 – Drawing Swords 
 We start off with a slow, almost regretful-sounding song, which is reflected by both the Lyrics and the overall sound. Which then progresses into a more hopeful tone. I really enjoyed the usage of the instruments here.
The overall message/ story of the song, as shown in the Official Lyric Video is to get out of your comfort zone, and open up to people. But it can also be interpreted as a call for peace, especially considering recent events in Iran, Ukraine, and Palestine.
Overall Sound: 7/10, Energy: 4/5, Instrumentals: 4/5, Lyrics: 4/5, Message/Story: 3/5, Overall score: 22/30
Song #2 – Tremendous 
I really enjoyed this song, because it perfectly encapsulates how energetic a song can be, even at a slow beat. The beat and overall tone stay the same throughout the song, but it's possibly one of the most immersive songs in RA's entire discography, because (if you're using headphones) the adlibs will only play on one side, so it feels like the song is being sung around you, as opposed to just in your head. The lyrics and overall energy of the song also help with the immersion.
From what I can see, there isn't much of a story or message to this song, all I can really say is that it's set in a bar, hopefully, we'll get a music video at some point that adds to the story.
Overall sound: 9/10, Energy: 5/5, Instrumentals: 5/5, Lyrics: 3/5, Message/Story: 1/5, Overall Score: 23/30
Song #3 – Little White Lies
The lyrics fit the music perfectly, and the official video perfectly fits with the song. It feels like a very bouncy song, one that would play during a road trip montage in a movie. One downside is the lack of a general story outside of about 5 or 6 lines.
Overall sound: 9.5/10, Energy: 5/5, Instrumentals: 4/5, Lyrics: 3/5, Message/Story: 2/5, Overall Score: 23.5/30
Song #4 – Fools Gold
A slow, relaxed song, telling a love story, lyrics are good, and the music is nice, but the autotuned high-pitched part at the end is a bit offputting.
Overall sound: 7/10, Energy: 2/5, Instrumentals: 4/5, Lyrics: 4/5, Message/Story: 3/5, Overall Score: 20/30
Song #5 – Rambo
I really enjoyed the usage of the dog barking at the beginning, because it immediately lets the listener know that this is a story about a dog, without using a lyric talking about it, which would disrupt the immersion. Overall, the song is the best song of this album so far, it provides a Unique, coherent, and compelling story, with brilliant instrumentals and great lyrics, however, the chorus is somewhat repetitive.
The story follows a boy and a dog meeting, then growing up and remembering the great times they had together, which many people can relate to.
Overall sound: 8/10, Energy: 3/5, Instrumentals: 4/5, Lyrics: 4/5, Message/Story: 5/5, Overall Score: 24/30
Song #6 – Bruised
A little bit of a shaky start, but once the music picks up it stabilizes, this is my personal favorite song in this album, with a catchy chorus, and just a general song with a general feeling that I can only describe as 'rolling', in that the music itself feels that it's rolling down a hill, slowly picking up speed and getting more energy. There isn't really a story, but the message is one of perseverance and not giving up.
Overall sound: 9/10, Energy: 5/5, Instrumentals: 5/5, Lyrics: 5/5, Message/Story: 3/5, Overall Score: 27/30
In total, this album scored a solid 139.5/150, I enjoyed it a lot, and none of the songs were bad. My personal favorites from this album are "Rambo" and "Bruised"