Darrell Brooks of Waukesha Christmas Parade Tragedy Sentenced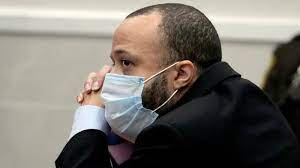 Darrell Brooks was recently convicted of killing and injuring 68 people in a Waukesha Christmas parade on November 21, 2021. Brooks was sentenced on November 16 of 2022.
On November 21, 2021, Wisconsin held its 58th annual Christmas parade in Waukesha. They hadn't been able to hold the tradition the previous year due to COVID-19 and many were excited to start the tradition again. While the parade was in session, Darrel Brooks drove a 2010 maroon Ford Escape through the parade while trying to evade the police, killing 6 people and causing 62 injuries.
Brooks has a criminal history of domestic abuse. On November 2nd of 2021 Brooks was accused of running over and domestically abusing the mother of his children in a parking lot and was arrested but let go after the bail had been lowered to only 1,000 dollars. It came up in trial that Brooks was accused of meeting his ex-girlfriend at a time when she was underage – he was of age – but he claims he didn't know of her age at the time.
 On the morning of the parade, Brooks got into another domestic disturbance with his ex-girlfriend and the mother of his children. When the police showed up, Brooks attempted to flee –knowing he was still on bail– and hopped into the car and drove through the Christmas parade causing this tragedy. Brooks was eventually caught and detained by police but the damage had already been done.
 The trial began in late September. It had been stated in the pretrial that Brooks decided to represent himself and get rid of his lawyers despite having no experience with law; Brooks also claimed to be a sovereign citizen and made it clear that he does not go by the name Darell Brooks numerous times during the trial.
 The trial had many people shocked and surprised about the way Brooks was presenting himself. Brooks remained unprofessional with the court by shouting out and interrupting the judge and prosecution. Brooks had to get kicked out of the courtroom multiple times throughout the trial and had to be given numerous warnings. Brooks also tried intimidating the judge and the witnesses.
 On October 26 Brooks was convicted of 6 counts of intentional homicide, 61 counts of reckless endangerment, and 6 counts of hit and run causing death. When the verdict was announced Brooks did not have any reactions but many others in the courtroom were relieved. One person even shouted out an inappropriate comment causing the judge to call for their removal. On November 16th the judge gave a powerful statement stating that Brooks has ruined many lives. Brooks was charged with several life sentences and in total got sentenced to over 700 years in prison without the possibility of parole.
This incident shows how domestic violence often escalates and can cause great pain not only to the ones involved but also to other bystanders. Brooks has always been an aggressive person to his spouse and he continues to show the same aggression towards others as many people have seen on camera. There are always signs of domestic abuse and it can be prevented and stopped. If you think someone you know is being domestically abused or you yourself are being abused speak up and out about the situation even though it is hard.