Caps' Future Looks Bright amid Injury Concerns
The season so far:
This NHL season, the Washington Capitals, as Roosevelt's local NHL team, stand at a record of 7-9-2 (7 wins, 9 losses, and 2 overtime/shootout losses) leaving them at 6th place in the metropolitan division, 12th in the Eastern conference, and 20th in the league. The team stands 4 spaces away from contending in the playoffs. The team is currently missing forwards Niklas Backstrom (Hip Surgery, out indefinitely), T.J. Oshie (Lower Body, out indefinitely), Tom Wilson (torn ACL, returning in December), Connor Brown (torn ACL, out for the season), Beck Malenstyn (surgery to repair a broken hand, out for the season), and Carl Haglein (Hip surgery, out indefinitely) along with defenseman Dimitry Orlov (Lower Body, day to day). With Backstrom and Wilson being consistent first linemates for captain, Alexander Ovechkin, the team has suffered a heavy blow offensively, along with missing both second line wingers in Oshie and Brown, and their second most experienced defensemen in Orlov. 
This chart is being used to demonstrate the total damage to the team caused by injuries this season in regards to overall player skill and salary cap.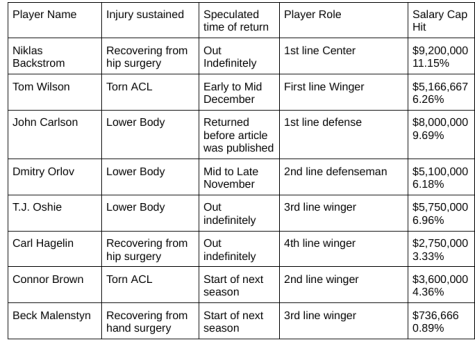 Who is filling in?
Younger players like Sonny Milano, Alieksei Protas, and Connor McMichael are stepping up to fill these roles while their older counterparts are gone, and the veterans who are left in Alex Ovechkin, Nick Jensen, Darcy Kuemper, Evgeny Kuznetzov, Garnett Hathaway, Dylan Strome and Nic Dowd are holding down the fort until their teammates are healthy.

Bright Spots:
This season hasn't been completely depressing, since the Capitals' Captain, Alexander Ovechkin has passed NHL legend Geordie Howe's record of the most points with a single NHL franchise, with 787 career goals, and is slated to pass Howe's total goal count of 801 later this season to become the second greatest goal scorer in NHL history, second only to Wayne Gretzky, with 894, which he is expected to surpass before the end of his current contract. Ovechkin has already secured himself a spot in the hockey hall of fame, but to preserve his legacy further, Ovechkin could benefit from winning a second stanley cup. But as of now it doesn't seem like a realistic goal, but if they're going to win their lines would most likely look like this (including players who will probably be healthy at the time and excluding any trades):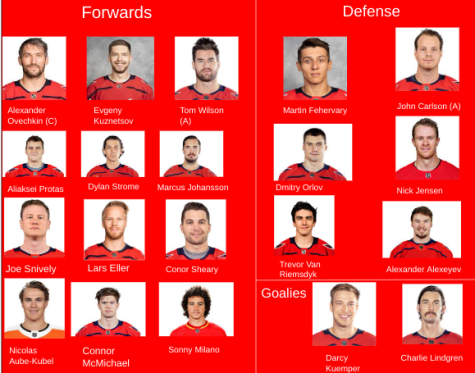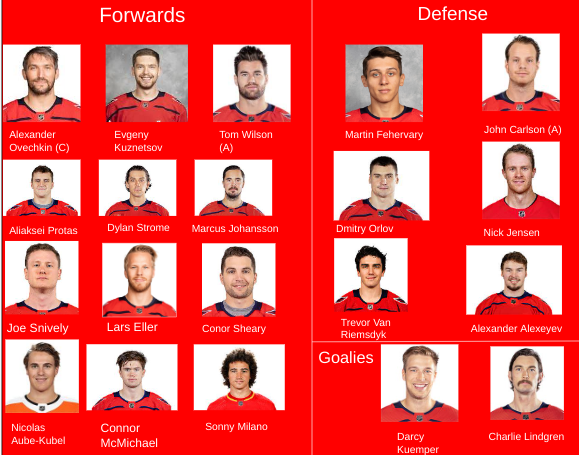 While not the most skilled lineup in the NHL by far, the infusion of young talent into their veteran lineup is a breath of fresh air for Caps fans after several seasons of being the oldest team (average player age) in the league and gives hope for the future of the team.
What the fans think:
Roosevelt freshman and Caps fan, Sebastian Zeller, when asked for his thoughts on how the Capitals are filling in their depleted roster, stated "I like how Maclellan (General Manager of the team) is using players we already have in the system instead of trading for people" and when asked what players he would want to keep going into a rebuild, he stated "younger players like McMichael, Lappierre, Milano, Protas and Fehervary, cornerstone players like Wilson, Kuznetzov, Orlov and Kuemper and depth players with a low cap hit like Sheary, Dowd, and Hathaway. When he was asked about the teams cup chances, Zeller said "not a chance unless the Capitals make a crazy move at the deadline and all of our injured players come back". when asked what players he doesnt think are going to return to the ice again are "Backstrom, Haglein, and maybe Oshie"

Possible tanking:
Some fans are hoping the capitals do poorly this year because the worst team in the league this season will have the highest chances of drafting Connor Bedard, an 18 year old talent speculated to become one of the best players in the league, and the capitals obtaining him would cut the time needed to complete a rebuild in half, and would pave the way to the team becoming a powerhouse by the 2027 season.
Looking into the future:

Captaincy
If you don't look at the Capitals current draft picks, the future looks bleak, with Niklas Backstrom probably never playing again, and with 4 years left on Alex Ovechkin's contract, the two are most likely going to retire together as the greatest sports duo in the history of D.C. With John Carlson and T.J. Oshie also retiring soon after, leaving the Captaincy spots open. But that opens up the question of who will take up the captaincy spots. Most fans seem to think that Tom Wilson will take up the C (Head Captain), with Dmitry Orlov taking one of the A's (Assistant Captain) with the other A still unclear, although it's possible the role will be given to either Evgeny Kuznetzov or Martin Fehervary based on seniority.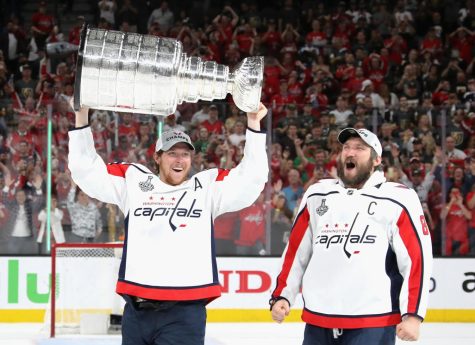 Possible Lineup:
The Capitals currently have one of the oldest lineups in the league, meaning a lot of players will retire at around the same time, giving many of their rookies chances to shine, assuming no trades are made, and every Capitals player over the age of 31 retires, here is what their lineup could possibly look like: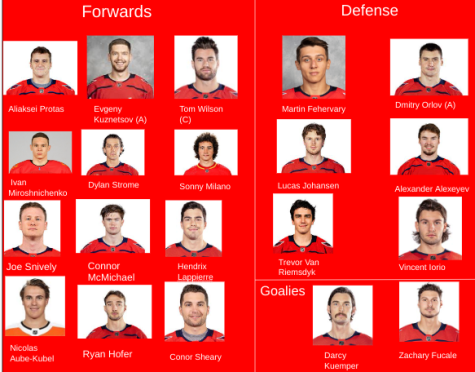 In conclusion, while the Capitals aren't doing very well this year, they're still a great team with a good balance of young talent and veteran experience, and may have a chance of skipping a rebuild altogether if management plays their cards right, and return to their former glory and have an even more memorable cup run