How the ERHS Community Spent the Holiday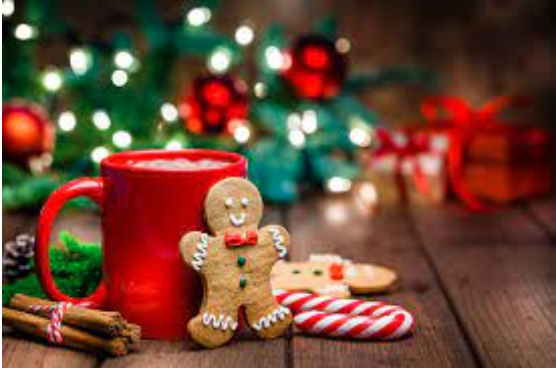 This time of year is when family and friends get together and celebrate the holidays together. They make traditions that pass through generations to come. Students and staff at Eleanor Roosevelt High School (ERHS)  have shared what they are planning or doing during the holiday season. 
The Students at ERHS shared their holiday traditions and what their family does over the holidays. When asked if there are any traditions that you and your family share during the holidays, Sophomore Sidney Myers shared that "every year my family and I go over to my grandma's house and we get to open one present on Christmas Eve ". She also shared a favorite dessert that her family makes over the holidays, which is gingerbread houses.
Sophomore  Amira Throne explained that her family went to Africa this year for the holidays. "We are celebrating my grandfather's birthday which is on Christmas".  Throne states that her family also went to the beach and "the food that her family makes is chicken and Jollof rice.
The staff at ERHS also shared their traditions of what they did as a kid and what they do now as adults with their families.  Ms.Komar, a Biogeochemical Systems teacher at ERHS said that "there are several traditions that we had when I was a kid that  I continue with my husband. "As a child, after we wrote letters to Santa and set milk cookies,' ' my dad would always read the Night Before Christmas before going to bed on Christmas Eve".  Ms. Komar doesn't make cookies with her Mom anymore but now she shares that tradition with her husband.  "A game we would play is based on an old German tradition. My parents would hide an ornament that looks like a pickle on the tree. On Christmas Eve, my siblings and I would try to find  the ornament". "Whoever found it first gets to write the letter to Santa and get an extra cookie when my dad reads the Night Before Christmas".
Local, State & National Government  teacher Mr. Winston said "when I was a child I always went to church on Christmas Eve". After Church we went to my aunt's house and had lasagna"! "Nowadays my wife will make pepperpot and her father will come over and we all will have breakfast together. Then we open our gifts and watch movies and watch basketball for the rest of the day."  Mr.Winston shared that his "favorite dessert over the holidays is Christmas tree cakes from Debbie's." "The games that we play over winter break are Monopoly, scattergories, and Uno." 
The history of Christmas is nice to know and why people celebrate it. Christmas is celebrated on December 25 and is both a sacred religious holiday and a worldwide cultural and commercial phenomenom. Christians celebrate Christmas Day as the anniversary of the birth of Jesus of Nazareth, a spiritual leader whose teachings form the basis of their religion. The middle of winter has long been a time of celebration around the world. Centuries before the arrival of the man called Jesus, early Europeans celebrated light and birth in the darkest days of winter. Many people rejoiced during the winter solstice, when the worst of the winter was behind them and they could look forward to longer days and extended hours of sunlight.
  The holidays are when some of the most magical family memories are created. No matter which holidays you celebrate, it's the little moments: rolling out the dough to make homemade cinnamon rolls on Christmas morning, or seeing the twinkle lights in the windows turn on for the first time, that make this season so special for the whole  family.