Feature: Congressman Jamie Raskin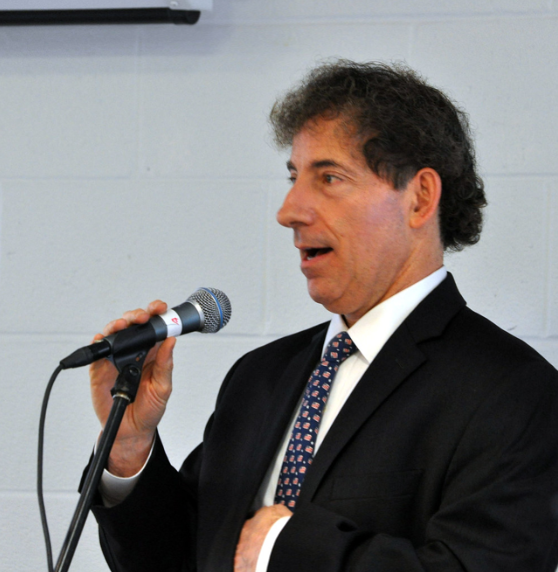 In February, Congressman Jamie Raskin (D-MD) performed the duties of lead impeachment manager for the Senate Impeachment Trial. Raskin, born and raised in Washington D.C., has represented Maryland's 8th district since 2017. He got his start as a lawmaker in the Maryland General Assembly (MDGA), where he became the Senate Majority Whip. Raskin has left a lasting impact on many constituents, including students, and his fellow elected officials.  
In the House of Representatives Raskin serves on many committees; including House Judiciary, Oversight and Reform, House Administration, and Rules. He also serves on the Coronavirus Select Subcommittee. Raskin has supported issues such as the repeal of the death penalty and the expansion of the ignition interlock device program. 
State Delegate Lorig Charkoudian (D-20) represents Raskin's former state senate district. District 20 includes Silver Spring, White Oak, and Takoma Park. Charkoudian met Jamie Raskin advocating for the abolishment of the death penalty at the annual "Fast & Vigil to Abolish the Death Penalty" event in front of the Supreme Court in the summer of 2006. Delegate Charkoudian recalled that Raskin had been running for state senate and that no elected officials or candidates had ever attended the event, so she was very impressed at his being there. She noted that Raskin was "very eloquent" and an "extraordinary orator." Charkoudian went on to pay close attention to and work on his campaigns. 
Delegate Charkoudian was elected to the state legislature two years after Raskin won his seat in the House of Representatives. Because their districts have so much overlap, their staffs coordinate on many issues, including constituent issues such as unemployment. Charkoudian declared that she felt a "sense of personal pride in his success and extraordinary work."  
Bjorn Schaefer used to live in district 8 and met Jamie Raskin at Bethesda-Chevy Chase High School on February 18th, 2020. Schaefer recalled that Raskin was hosting a student Question-and-Answer (Q&A) session. He said Raskin spoke of the Democrats' status, potential changes, and how to increase voter turnout. Bjorn recalled the discussion as "special" as it is not an everyday thing that someone gets to meet a United States Congressman. 
Before the visit to Bethesda-Chevy Chase, Schaefer and his family were already supporters of Raskin. He expressed his admiration of Raskin's efforts to get same-sex marriage legalized and "tackle racial segreation" in Montgomery County Public Schools. Bjorn explained the widely varying concentrations of students in The Free and Reduced-price Meals System (FARMS) at various high schools as an "indicator of racial segregation" in Montgomery County and its public schools.       
Representative Raskin got his degrees from Harvard College and Harvard Law School. He was a constitutional law professor at American University for over 25 years before becoming a law-maker. His past experiences gave him the necessary background knowledge for his job as lead impeachment manager in the Second Impeachment Trial of former President Donald J. Trump. He was selected for the position on January 12, 2021 and was one of the main authors of the impeachment article, which charged the then-president with inciting the January 6th insurrection. 
While performing incredibly in the impeachment trial, Congressman Raskin was grieving the tragic loss of his son, Thomas "Tommy" Bloom Raskin. Tommy died by suicide on December 31st, 2020. Dash Tischler, a student that lives in Raskin's district, spoke of the situation as "tragic" and hoped that Representative Raskin and his family find "peace." 
Tischler was "impress[ed]" with Raskin's performance, adding that it would have been "completely justified" to excuse himself from having such a major role in the proceedings. Bjorn Schaefer shares this sentiment, saying Jamie Raskin has "grit" in terms of his commitment to "standing up for what is right."   
Delegate Charkoudian noted that she and many others were "devastated" by the loss of Tommy. She recalled seeing him grow up and work on his father's campaigns and then "distinguish himself in the cause of issues of poverty and inequity." She noted that there is "some wonder" in the "extraordinary skill and commitment" that Jamie Raskin showed in the impeachment trial. But, Charkoudian remarked "that is who Jamie is, that is what he does with his heartache." She speculated that, while someone else at such a time would want to cry all day, Jamie was channelling Tommy's "love and passion and belief in this country and what it stands for" in his efforts as lead impeachment manager.
In terms of his track record thus far, Charkoudian remarked that after his election in 2016, the first two years in the House were a "resistance against Trump and the Republican trifecta." She speculated that his "eloquent voice" and ability to "challenge and push back with coherent constitutional arguments" was very necessary. She estimated that with democratic control, there are now more opportunities to make headway with policy. She made the determination that now there is "a chance to see a new side of Jamie at the federal level." 
Delegate Charkoudian added that Representative Raskin is someone she considers a friend, but really "Everyone in the 8th district thinks he is their friend." She concluded that "He is such a good and kind human being" and that he is so "well-loved."