A Glimpse Into The Life Of Black People In America
With all that is going on in the world during this day in time it is good to stay informed. During 2020 there have almost been wars, our president was impeached, a  world wide pandemic happened, and of course a worldwide revolution protesting the unlawful brutality towards the black community. That last one is the one that I want to focus on. In the United States on a daily basis black people are discriminated against and breaded with ridicule because of what they look like.  "Being in the community that ERHS is in, there is a common sense of fear and lack of trust when it comes to the police. Even though the police should be seen as our helpers, it does not always work out that way" remarks Ngozi Emezienna, Vice President of the Black Student Union (BSU) at ERHS. We have seen situations too many times where people of color, especially Black people, have been killed by the police because their skin color "is threatening". Elizabeth Hager, Secretary of BSU at ERHS remarks "We need to keep these people alive with our memories by saying their names over and over again. We cannot let them die in vain, nor can we let them be forgotten. We need to fight for what is right for these people and their families". The unjust murders of these people have plagued our nation for too long. We need a change more than ever. 
According to a study done by the Washington post in 2020 about 1,345 Black people are killed each year in connection with police brutality. Compared to any other marginalized race  it is vastly disproportionate.  Constantly spreading the word and speaking out against these unjust murders does help the cause, no matter how insignificant your contribution may feel.  "The BLM movement is amazing and allows millions of people to become educated on Black history and their constant oppression. I also believe that those who believe that All Lives Matter should support the BLM movement because are Black Lives not included?" says Victoria Aloba, Secretary of BSU. 
Many Black people think that they are exempt from this unfair treatment until it happens to them. Everyday people face this.  People around you most likely have faced some sort of discrimmination. Faithyn Chukundah, President of BSU explains"At a very young age, I was exposed to the idea that if I am at a traffic stop, I should fear for my life. Even worse, for my older brothers especially, fear for their lives because that could be a tragic end for them".  That is why it is so important in our communities and schools to uplift and encourage the people of color around us. Eleanor Roosevelt has a large percentage of students of color, so different clubs that offer empowerment for different races is important. For example the Black Student Union as mentioned. So many things have happened to build up our community's frustration: "the death of George Floyd, followed by Breonna Taylor spurred me to act: I decided to join Black Student Union and use my passion and art to fight against the prevalent injustices here within America." says Ryan Mesidor, Public Relations Officer of BSU.
The bottom line is that being a black person in America is one of the hardest things to be. Nothing we ever do is enough to get us the respect we deserve. "The hardest thing about being black in America is the constant loss of hope. Being black in America means over-qualification can still leave you unemployed. You have to work twice as hard to level the playing field, four times as hard if you want to be more successful than the average man" exclaims Nathan Addai, BSU Treasurer .Continuing to shed light on the issue of police brutality is so important for the advancement of the BLM movement. The more we continue to talk about it and demand justice, the louder we are the less we can be ignored. That's why this movement is so important. 
About the Contributor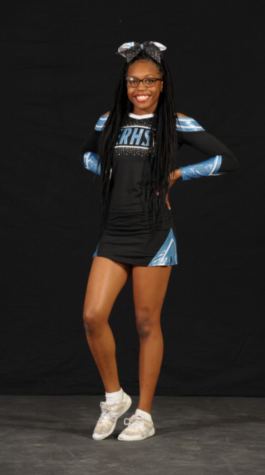 Nya Cash, Staff Writer
Nya Cash is a sophomore at Eleanor Roosevelt High School and first-year staff writer at the Raider Review. She's on the cheer team and is a member of...