The Waiting Game- When Will Sports Return?
If you are like me, and are an avid sports fan then this quarantine has sucked. Not only are most of us stuck at home, but we all just want to turn on our television's and watch sports. The only thing is there are no sports to watch. 
If you go back about a month's time, before the outbreak began you would be waiting for the month of March, April, and May as those are some of the best sports months of the year. You have the NCAA Basketball Tournament, the Masters, the NBA and NHL playoffs, as well as the beginning of the Major League Baseball season. With no clear end in sight, many sports fans have gone to watch old games, replays, or even marble racing. And why yes all of those things can be fun, nothing is quite like the excitement of watching your team live, down the stretch in an important game. The nervous feeling you get, how anxious you are and the sigh of relief, or the disappointment you feel after a win or a loss. See sports fans around the world wait for this time of year. Having three professional sports in action, as well as the biggest basketball tournament of the year. But this year is different. As we all know each and everyone of these events that I have named so far has either been postponed or cancelled. 
On March 11, news broke that Utah Jazz player Rudy Gobert had coronavirus. This was the first domino to fall, with later that night the NBA announcing that all games being played that night were the last ones to be played, with a start date yet to be announced. Then the next day all NCAA conference tournaments were to be cancelled, and soon after the Big Dance; March Madness cancelled as well as every spring sport. Major League Baseball and the National Hockey Association quickly followed suit, and then the sports world was silent. 
Since then nothing has changed. Sports are still shut down, America as a country seems to be sheltering in place but no one knows when this virus will end. Athletes across the country have no access to teams facilities, and many do not have places to go and train. 
So when will sports return, and how will sports look? On January 21, the first case of COVID-19 was reported in Taiwan. Unlike most places however Taiwan has had only about 400 cases in total due to strict safety measures enacted upon the first sight of the virus in their country. The Journal of American Medical Association said Taiwan had strict quarantine guidelines as well as many testing sites to help and limit the spread of the virus. Now on April 12, the first professional sporting event was played in Taiwan since the virus hit. This was professional baseball played between the Chinatrust Brothers against the Uni President Lions. 
This game was not like any other game though. Essential personnel were the only ones allowed along with the media and a strict no fans rule. Robots, and cardboard cutouts of people were placed in the seats to try and make somewhat of a gameday atmosphere for the players. This though is obviously not the same, and nothing will be the same for a while.
If we take Taiwan's timeline of events and we add 81 days since March 11 when the last sports game was played that would put our effective "start date" at May 31. Although, in the United States that probably will not be the case. As of April 21, the U.S. had 746,625 cases confirmed. This number seems like it will only continue to grow in the near future. 
Many leagues have tried to tinker with ideas of how to play a season. Baseball threw out an idea of having all thirty teams play in stadiums in Arizona. No one comes in and no one goes out. That idea seems very impractical. The PGA Tour announced that on June 11, they will be teeing off for the first time since the pandemic hit the states. They have a tournament scheduled to take place in Fort Worth, Texas with no fans to be in attendance and this no attendance thing will probably be the new normal for a little while.
Living in the Washington D.C. area, I have been spoiled recently with really good sports memories. These memories include watching the Washington Capitals win the Stanley Cup with some of my closest friends at a city wide watch party in downtown Washington, as well as this past fall witnessing the Nationals World Series run and going to four playoff games. See as fans, we live for the moments where we can go nuts, and sports allows us to all come together and put aside any differences and celebrate. Sports allows us to heal. Sports allows us to rejoice with strangers we will probably never see again. This year I guarantee will be different, many venues will be empty, and some seasons may even be cancelled. There may be no NHL or NBA playoffs. There may be no Lebron chasing down another title. There may be no banner raising in the District to welcome home the Washington Nationals. But maybe there will be games played, with empty stadiums, and as fans watching our favorite teams play will not be next to tens of thousands of our closest friends, but rather on our couches with one or two of our friends still enjoying the players, the teams, and the sports we love. There will be sports again, sports will allow us to heal, it is just a matter of time. Until then, we must all try and stay safe because the more we can stay healthy the sooner sports fans everywhere can be crying and celebrating with their teams. 
About the Contributor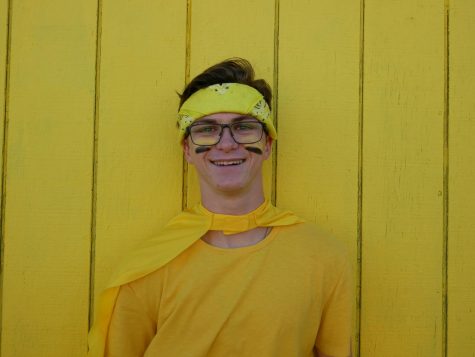 Wesley Shoemaker, Sports Editor
Wesley Shoemaker is our 2019-2020 Raider Review Sports Editor. He is a senior and is also one of our many Varsity Baseball stars. His favorite sports team...