Quinton Mincey Signs to Play College Basketball
Aaron Waithe
March 3, 2020
On a surprisingly warm November day staff along with family and friends and the boys and girl's Roosevelt basketball team packed into the  cafeteria conference room filled with balloons, steamers and cake to celebrate. Celebrate what you might ask? The achievement of furthering education and playing college sports at a Division I school. The room was filled with love friends to the school newspaper writers to Quinton Mincey's own family. Everyone there had a genuine sense of support for Mincey. 
Quinton Mincey  is an Eleanor Roosevelt High School senior who is a star on the basketball team. He was offered a scholarship and signed to Mount St. Mary's full ride scholarship. The signing day took place November 13th, 2019. It took place in the cafeteria conference room at Eleanor Roosevelt High School. He is signing to further his education while playing basketball at a division 1 school.  
Quinton Mincey is Eleanor Roosevelt High School star player this year taking the reins from previous stars Isaiah Gross and Cameron Brown who are also playing college basketball for Coppin State University and Saint Joseph University respectively.
When asked what he could bring to the Mount St Mary's team he said "definitely being a leader, a lot of teams don't have that strong leader, that consistent leader and I feel like I can bring that." He also spoke to us on why he chose Mount St Mary's "They were a very consistent school. They were interested in my progress and they wanted me to do great." Mount St. Mary's was very interested in him because of his academic success and basketball skills. 
But along with basketball, Quinton is also counting on education. He plans on majoring in something on business. When we asked coach O'Connell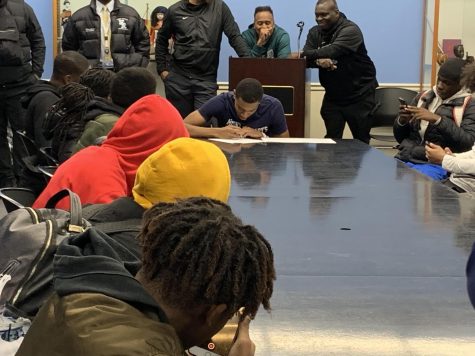 he said this about Quincy's academics "Well I mean we wouldn't be here right now if he wasn't good at  both. To be able to sign before your senior year even starts and you're not a good player and a good student then that should answer itself." He not only plans on furthering his education in business, he plans on owning his own. "I want to own a barbershop, and a language center. I want to own some property. I just want to own a whole lot of real estate. It's a lot of stuff and when I get older there might be a couple more things I want to open up." Quinton not only has ambition on the court but he also has it off the court and it shows why Mount St Mary's has decided to bring him on.