Science Fair: Why Was It Moved Up?
On January 29th, ERHS held the annual Science Fair two weeks earlier than it has been in previous years. Earlier last year, the county Science and Technology Office announced the official change of date. 
For years, it was held the second Wednesday of February. This affected the schedules of programs such as Research Practicum and the Science Exchange with Atsugi High School in Japan.
RP teacher Dr. Oram said that "we've had it in mid-February for as long as [he] can remember." He also said that no explanation had been given to him on why, and then described how this change has affected Research Practicum specifically. "It's been a little challenging to try and get the assignments in before the end of the year."
The reasons for this schedule change are, according to RP teacher Mr. Sean Brady, "The county Science and Technology office has to have each students' science fair paperwork. In order for them to process things appropriately and get things written up for their program registration, they need to have all the information by February 4th this year." 
"Our science fair was always held the second Wednesday of February, and we were not going to be able to able to do that," he explained. "So, January 29th was the latest we could hold it, and still meet that deadline."
This affected the amount of time students had to collect data and other necessary material to present for their projects.
According to Mr. Brady, teachers "adjusted [their] deadlines of when materials are due, according to the new schedule associated with Science Fair." He added, "The thing that was out of [the teacher's] control was two fewer weeks to collect measurements and data relevant to [the students'] projects."
Students expressed their discontent with the new schedules for Science Fair and its subsequent effect on deadlines for RP. Senior Cole Cheng states, "Everyone has been able to collect less data. In conclusion, it was bad."
Senior Mekhi Boulware stated that it put "more time constraints on [the students]." He said he felt that if they had a few more weeks to work, then "[their] boards would look a little bit better, and [they] wouldn't have to spend six hours getting a science fair board done."
Dr. Mark Oram offers a more optimistic viewpoint. "On the other hand," he stated. "I think it is a benefit to the students because it keeps us all honest and we have to stick to a much more rigid timetable." He also said that he personally would have preferred to keep Science Fair in February but he "sees the advantages of having it early."
About the Writer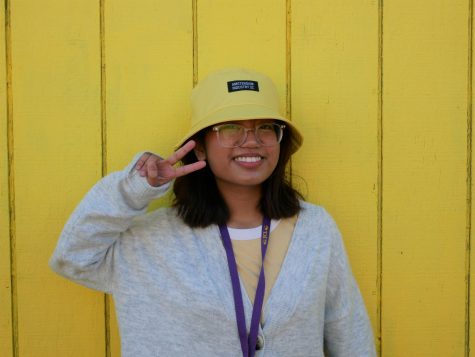 Mary Chavez, Staff Writer
Mary Chavez is a senior at Eleanor Roosevelt. She has exactly a dozen nicknames and prefers to be called Mare by her peers. She was born in the Philippines...