Teacher Feature: Ms. Allison Kipping
Hang on for a minute...we're trying to find some more stories you might like.
This year, ERHS's Science Department welcomes Ms. Allison Kipping, one of the three new science teachers. She teaches Chemistry and Organic Chemistry.
Ms. Kipping says her desire to teach chemistry stems from her love of the subject and her family history of teaching the subject. She headed into college, knowing she wanted to major in both chemistry and education. She was inspired by some very "impactful high school teachers."
Attending the University of Maryland, she received her Bachelor of Science in Chemistry and Secondary Education. She became a student intern at Roosevelt for a year, then taught various levels of chemistry at Wilde Lake High School for five years. She returned to Roosevelt after she heard of the job opening for Organic Chemistry, a course many other schools did not offer. 
She is highly respected among her students and co-workers. Science Department Chair, Ms. Rebecca Hammonds, says that she was "impressed with her teaching style and content knowledge." 
Senior, Victoria Land, stated that Ms. Kipping is a "positive person," who "gears all her work towards understanding the concepts," and shows that "she cares about every student's well-being." 
Another senior, Katia Portillo, agrees "she's super nice and understanding," and encourages Ms. Kipping to "do your best because it's hard being a teacher." 
When asked about her time at Roosevelt thus far, she said she is enthusiastic to work with her students and be a part of the Roosevelt culture, as everyone here "seems very spirited and proud to go here." 
In her free time, she enjoys reading, wedding planning, and playing on an intramural kickball and volleyball team with friends.
Ms. Kipping is focused on adjusting to the new school and teaching her new Organic Chemistry course, but is excited for this school year and looks forward to helping her students succeed in Chemistry and in life. She understands that she can't convince everyone to become a chemist, but she is still optimistic in helping her students grow, no matter how many trials it will take.
About the Contributors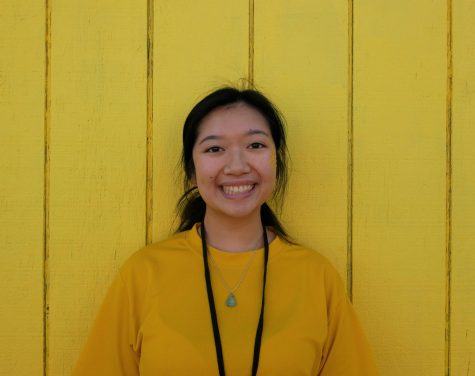 Claudia Tan, Student Life Editor
Claudia Tan, a senior in the class of 2020, is a hardworking and innovative person who has been a reader of the Raider Review ever since her freshman year...