Roosevelt loses season opener 41-0 to Wise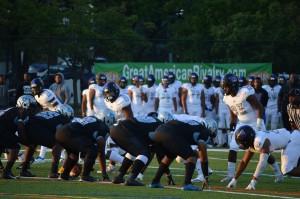 Hang on for a minute...we're trying to find some more stories you might like.
The Eleanor Roosevelt Raiders football team lost the first game of the season to the Pumas from Dr. Henry A Wise high school by a score of 41-0 on Friday September 6, 2019 at Eleanor Roosevelt High School.
Wise was able to jump out to an early lead with quarterback Jayden Sauray. Sauray threw a 30 yard strike on Wise's first play getting Wise to go up 7-0. Sauray did not look back as he continued to dominate, adding another two touchdowns, including a long touchdown run which got the Wise crowd riled up late in the first quarter. Sauray finished the day rushing for 48 yards and passing for 57 with three total touchdowns.
By halftime, Wise was up 34-0, as junior Jalil Farooq added two touchdowns of his own. He finished with 45 yards and two touchdowns on the night as the Raider defense was unable to put multiple stops together, and stop him.
The Puma defense was able to shut down the Raiders offense led by senior Rodney Gainous who had a total of 12 tackles and two sacks on the night.
Roosevelt's best scoring chance came in the 4th quarter. The Raiders offense was able to get into Wise territory making it to Wise's 35 yard line but could not convert on fourth down and turned the ball over.
Junior defensive tackle Emmanuel Ogbuji said "[Wise] was a lot more aggressive and they smacked us" later saying also that "we are a young team and still developing." Roosevelt currently has six starters on defense who are not seniors, showing the youth on the team and the ability for players to continue to get better.
Historically, the Wise versus Roosevelt matchup has been one of the biggest games in Prince George's County, being as recent as two years ago these two teams were battling for a regional championship.
After the game, when Sauray was asked what his mindset was for a game with this type of intensity and atmosphere was, he said "my mindset was to be dominant and be consistent."
The Pumas will host Laurel next Friday the 13th, and then travel to Northwestern the week after, as they look to move toward their goal of winning the 4A South region, as well as then winning a state championship.
As for the Raiders, Junior kicker Deven Verma said after the game that "Wise outplayed us but we are looking forward to move on."
They will get their chance to move on from this game and look to get their offense going as they are playing High Point on the road next week and then come home to face Suitland the following week as they are hoping to get their first win of the year. Ogbuji said "we can blow them out and show the county Roosevelt football is not a joke."