What does ERHS mean to you?- A senior piece
Hang on for a minute...we're trying to find some more stories you might like.
With senior year coming to an end, students are excited for their future plans this fall. The more than 600 students here have various plans, from working, line of duty, or gap year,  to attending universities. Before the seniors walk across that stage, many have a few words to say about just how much Eleanor Roosevelt High school meant to them.
Seniors expressed their gratitude for their growth through four years at ERHS.
Senior Chailyn Nwoke stated, "I've gone through many trials and errors in high school, discovering what is and isn't for me, and although I am still learning about myself, my time at Roosevelt will forever have an impact on the woman I am becoming. With that being said, Roose to me means growth- the starting path to finding out who you are."
Senior Teri Jones also stated, "Roosevelt has taught me what it means to grow. Throughout my time here, I have gone through so many seasons of growth and I'm leaving this school as the truest version of myself, ready to grow even more in the future."
"ERHS has allowed me to grow as an individual by making me challenge myself in ways I didn't think I could. It wasn't easy but I never gave up." said senior Zaenab Kadiri.
Senior Christus Quidlat also agreed, stating, "Roosevelt has been an important part of my life because it helped me to grow as a person and to become more confident in everything that I do. The diversity of the school in race and personalities allowed me to understand people more."
Diversity is what many students said they believed allowed them to feel accepted in such a big school.
Senior Jalon Shell shortly, but sweetly said, "Roosevelt has embodied the beauty in diversity."
Alongside senior, Sarah Dollen said, "I consider my high school experience in S/T program at Roosevelt a privilege, both academically and socially, as the extraordinary talented, kind and diverse community of students, as well as the passionate caring teachers have provided an environment that fostered invaluable connections, experiences and, growth.
Other students thanked ERHS for the opportunity to find their identity.
"Roose was a place where I could grow as a person and find my identity. It also contributed in preparing me for my future." said Patricia Olabanji.
Taylor Carrion stated "Being around so many people from so many different backgrounds helped me learn about myself. It was a place where I felt comfortable to be whatever I wanted, whenever I wanted. Being apart of the student body and interacting with my teachers and peers even made me realize  wanted to pursue a future as a teacher."
Danielle Chew Martinez also said "Roosevelt has been a place where my personality has been able to jump out and where I discovered what type of support systems I need in life. The support from teachers, alumni, staff and most importantly my class is what I want to mimic throughout the rest of my life."
Some students remember ERHS for its spirit and environment.
Senior and class president Lauratu Bah said, "Roosevelt is like an extended family for me. During the past four, it has been so fun having a healthy competition with other classes like sibling, but putting our differences aside and coming together while beating Bowie."
Annette Moukoury also believes that "Roosevelt was a little bit of everything. I could simply say it was three years of treachery, but it was a lot more than that. I've found lifelong friends and made countless memories. I will miss the promposals and the spirit weeks. But most of all, I i'll miss the comfort it brought me. Roosevelt is home, and there's no place like that."
"My four years at Eleanor Roosevelt high school have been riddled with many highs and lows, all of which played a major role in shaping me to be the man I want to be. I met a lot of wonderful people一students and staff included一 made connections, and learned lessons I will value for the rest of my life. I wouldn't trade my time here for anything." senior Nnamdi Chikere stated.
Senior and class secretary Kalinah Nyanplu, said "Roosevelt has become sort of a second home because of all the love and support we show each other within the school."
Lastly, senior Vanessa Aguocha-Sam ends this on a touching note,"Roosevelt to me means connection. In my three years at Roose, I have come across many different experiences with different people. The one thing that stayed consistent over the years was the overwhelming acceptance that the student body had for everybody that walked through the doors. It didn't matter where you were from, what you looked like, or who you loved, you were accepted and welcomed at Roose, and there was always a place for you. That is something that I will miss when I graduate."

About the Writer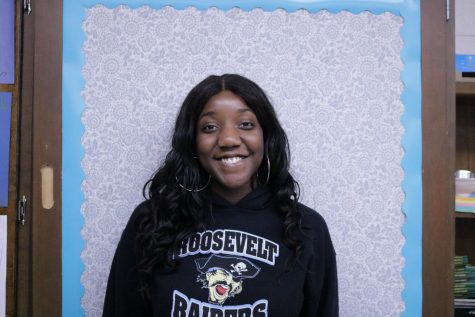 Chinazam Uhegwu, Staff writer and Advice Columnist
Chinazam is a senior at Eleanor Roosevelt high school. She is currently in the Science and Technology program and, finds joy in writing. Uhegwu is a poet...