The Spring Best of Coffee House
Hang on for a minute...we're trying to find some more stories you might like.
Eleanor Roosevelt's Music Department recently hosted its Spring Best of Coffeehouse on March 8th, 2019 in the Dr. Gerald L Boarman Auditorium. 
"Coffee House provides so many benefits for the Roosevelt community. It gives students the opportunity to showcase their musical talents and allows other students to learn technical skills, such as live sound engineering and set up," said Mr. Hawk, who is the coordinator behind the show.
Many talented students attended the auditions that were held in February. Out of all that auditioned, only nineteen young musicians were selected for the event. Of the nineteen that performed, a few were juniors while a majority of the performers were seniors. Despite the imbalance in the variety of grade levels of those who performed, it did not come as a surprise to many that attended. 
First time performer, senior Ollie Adebajo (fig.1) stated that one of the main reasons she even auditioned for coffeehouse was because "it was the last one."
Many of the senior performers made it clear that they wished to display their talents one last time—or in some cases, the first time— before leaving Eleanor Roosevelt for good.
Adebajo continued to express that she was "both sad and excited to perform because there is no event specifically like coffeehouse," and that she had "made so many memories with friends" that she "will treasure forever."
Senior Alyssa Stanford (fig. 2) agreed with Adebajo's statement, expressing that "to be able to perform in my last one [coffeehouse] was a spectacular experience that I won't forget."
This bittersweet moment seemed to be experienced by many of the seniors interviewed, although many tried hard not make it the priority of their night. According to senior Kendall Bryant, three time performer at coffeehouse, all of their focus remained on the task at hand. Following her performance, Bryant expressed that "for the first time ever, when I looked into that crowd, I was perfectly comfortable to just sing."
Other performers such as junior Abby Feng, who was Adebajo's partner for their singer-pianist duet, stated "It was my first time performing outside of pep rally and it was exciting seeing how many people came out to listen."
Feng continued, saying that to her, "coffeehouse was a good performance opportunity."
Senior Victoria Lewis, an audience member, agreed with Feng's statement stating that "this was their chance [the performers] to seriously express their talents and not feel shy by an intimate casual setting."

About the Writer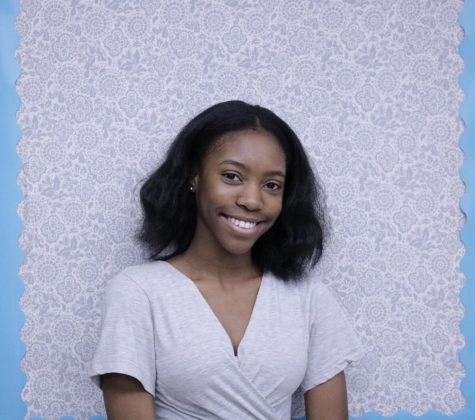 Philippa Roberts, Student Life Editor
Philippa Roberts, a senior at Eleanor Roosevelt High School, has never had a deep interest in English. "I'm just not an English person" were the...