Sandra Oh and the Future of the Golden Globes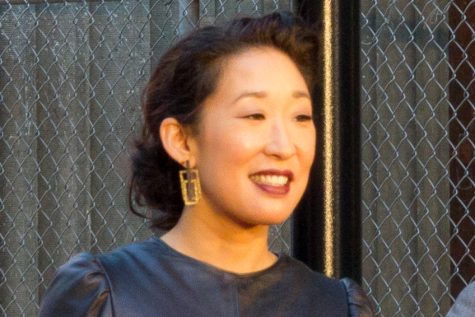 For decades, Hollywood has been sending us a message. If you aren't attractive, tan, wide-smiled, and white, you do not have a place in the center of a movie poster or title sequence on TV. If you aren't a white comedian, preferably with a long career on Saturday Night Live, you will not host the Golden Globes.
On January 6th, Andy Samberg, another white SNL alumnus, graced the stage. However, next to him, stood a beaming woman taking in the warmth of the crowd. There have been 76 Golden Globes, 11 Golden Globes hosts, and one Golden Globes host of color, Sandra Oh. Her presence at the 76th Golden Globes is the first domino in diversifying Hollywood for generations to come.
According to the 2018 UCLA Hollywood Diversity Report, only 13.9% of movies and only 18.7% of broadcast television shows are lead by an actor of color. For a 38.7% minority race country, this is frankly absurd. America is a melting pot and Hollywood is mayonnaise on white bread.
Oh spent the majority of the night being gracious and frankly hilarious. In my opinion, this is why the 76th Golden Globes will go down in history. Oh was a funny, thoughtful host, and even though she addressed diversity, it was obviously not the only reason why she was there. Oh was not a token, much like Christina Yang and Eve Polastri, Sandra Oh was there to do her job, not to be shown off.
Besides being the first woman of Asian descent to host the Golden Globes, Oh also became the first to win two Golden Globes on January 6th, by winning the Best Actress in a Television Drama for her role in Killing Eve.
Sandra Oh addressed the crowd of other minority performers from diverse media directly stating "…I see you and I see you, all these faces of changes. And now, so will everyone else."
We overlook so many people in our nation. Those of us who have the privilege to be seen, have to lift up creators and artists like Sandra Oh, to make American media as honestly diverse as a walk down Roosevelt's halls. Like Oh said, this year's Golden Globes were a "moment of change," but "next year could be different."
Sandra Oh's Golden Globes were the first domino, but it is our job to continue down her path.
*Note: A shorter version of this piece was published in the February print edition of the Raider Review.
About the Contributor
Amelia Komisar-Bury, Opinion Editor
Amelia loves keeping up with the news (especially NPR) and writing argumentative pieces. She hopes that Journalism will help build her reading and writing...