What It's Like to be a D1 Recruit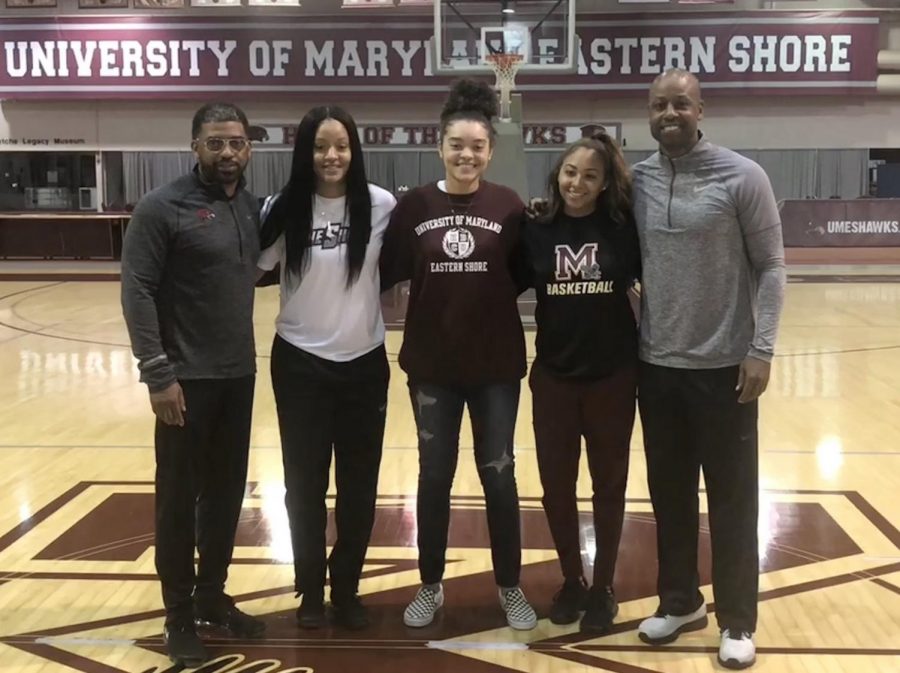 Division 1 athletics is the pinnacle of college sports. ERHS senior forward Makayla Adams, became one of the select few D1 recruits from public schools after committing to the University of Maryland-Eastern Shore in 2018.
"I started playing in fourth grade and I started playing because I was super tall for my age and my dad played basketball in college so he wanted me to try it," Adams said.
After four years in the sport, Adams was still a dual sport athlete playing softball in addition to basketball until her dad told her "that [she] was going to have to pick a sport to focus on."
Adams chose basketball. It was a decision that would change her life.
Adams explained that she has enjoyed all of her time involved in Eleanor Roosevelt Athletics. "Every team that I've been with has been super close and we all get along and play together very well."
Adjusting to the demands of basketball "took a while but I found that having workouts early in the morning and getting your homework done right after leaves you the back half of the day to do social things or just sleep"
But after playing the sport at a high level for so long, "[she's] used to it."
"I play basketball everyday so now it's just a part of my routine just like going to school," added Adams.
Basketball became such a big part of her life that she was eventually being scouted.
Adams explained, "the scouting process consisted of spending my summers traveling across the country and playing in different tournaments in front of college coaches."
She was drawn to the University of Maryland-Eastern Shore because of "how much the coaches cared about the players and how much of a family it was."
According to Adams, the scouting process allowed her to travel the country "and see different sites from those areas some of which [she has] never seen before."
Being a Division 1 athlete in high school has its ups and downs though. Adams said being a D1 recruit "boosts my confidence because I know that my hard work has paid off but at the same time it puts a lot of pressure on me because people expect me to play a lot better since I am a D1 athlete."
Adams noted that her family and coaches were always there to guide her through the process.
"They are helping me by constantly being supportive and giving me guidance when needed."
When asked about the daily life of a Division 1 athlete, Adams said "usually your day starts at about 5:30 am, you have a morning practice, eat breakfast with the team, and then go to class."
After that, "you have a quick break before you have your second practice and then usually have a class after that."
A division 1 athlete is "switching between school and basketball constantly throughout the day."
Adams said that the hardest part of transitioning from high school to Division 1 basketball will be "trying to balance school and basketball since  basketball will take up more hours of my day than it does now."
Adams has not only gained the recognition of elite colleges, but has also gained the admiration of her peers.
Senior and former junior varsity basketball player, Kaitlyn Watson, said that Adams' success of playing at such a high level lets her "see first-hand that hard work does pay off."
Fellow athlete and volleyball captain, Bailey Mccoy, said "there's so much talent in public schools that's overlooked" as most scouts prioritize private schools and club athletics.
"I know in many sports, or at least in volleyball, you're recruited from club not from school. That's super hard because club is about 3k per season that not everyone can drop."
As a captain, Mccoy said she agrees with Watson and said that, "[she] knows of girls on [her] team who want to go D1 and who most definitely can, so hopefully seeing another Roose female athlete do it will encourage them and show them that just like Makayla, they can do it too!"
Watson spoke about the gap in women's sports saying "it's upsetting because they play the same game just as well and aren't treated the same or payed the same" as well as not getting the same recognition. 
Adams gave the following advice for athletes wanting to play at the next level: "Keep working hard, it will pay off."
About the Contributor
Surya Pukazhenthi, Social Media Manager
Roosevelt senior Surya Pukazhenthi is the Social Media Manager for The Raider Review. During his free time, you can find him captaining the Eleanor Roosevelt...