Restaurant Review: nuVegan Café in Washington, DC
Hang on for a minute...we're trying to find some more stories you might like.

Although I am not vegan myself, or even vegetarian, I've toyed with both of those ideas before – and this week, I ventured out to nuVegan Café in Washington, DC, making it the first restaurant I've been to that serves exclusively vegan cuisine, although that (evidently) doesn't mean it only serves people who are vegan.
"NuVegan Café caters to all customers from the transitioning to [sic] vegan eater to the hardcore health enthusiast. We also serve those that are not vegan which really speaks volumes as we have something for everybody and that's good food that everyone can enjoy regardless of your eating lifestyle choice," the restaurant website provides.
I was directed to the back of the restaurant when I entered, where the food was displayed buffet-style, through an arrangement of metal bins: entrées at the sides and colorful side dishes nested between. I ordered "Vegan Barbecue Tofu w/ Rice" with the sides "Crispy Green Beans" and "Oriental Spinach," and a piece of red velvet cake. Altogether, the meal was around $20.
The food wasn't remarkably delicious, but I suppose that's not surprising, as I hadn't ordered anything that could really yield that height of impression. Also, nuVegan markets itself as a "casual dining" experience, and that's what I received, perhaps especially so because I ordered the kind of foods that I'd typically eat at home. Yes, I typically eat tofu and green beans and spinach.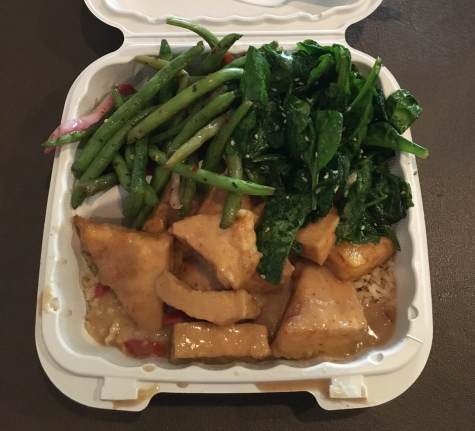 The entrée, which was the tofu, was cut into triangles, speckled with flecks of red pepper, and coated in a mildly sweet sauce. The spinach was dressed in what tasted to me like sesame oil. The green beans were similarly seasoned – with a light layer of oil – and came with slices of red pepper and onion. I hadn't known that the beans were raw when I'd ordered them, so I was slightly surprised when I took my first bite; anyhow, the crunch was refreshing. It reminded me of biting into a cucumber.
I noticed that the portions I received were quite large, or at least, it felt that way. The thing about vegetables is that they're typically fibrous and nutrient-dense, so they tend to take a long time to eat. Because of this, I didn't get to finish my side dishes. I did get to finish the tofu, however, and it was easily my favorite part of the meal.
My second-favorite part of the meal was the dessert. Here's a picture.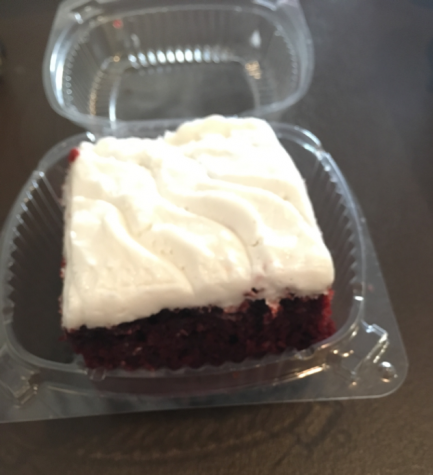 The dessert was a hefty, five-dollar square of red velvet cake (vegan, I'm assuming). The cake of the cake was damp and had the texture of banana bread, and tasted sort of like standard cake made with significantly less sugar. The frosting was sweeter than I'd usually prefer, but because of its relatively bland-tasting counterpart, it worked in this particular case.
I ended up finishing the cake, despite it being a quarter of the size of the platter (with the tofu and vegetables) I'd ordered, and I recognize that I probably wouldn't have been able to do so were the cake not vegan. While it wasn't as light as I'd expected it to be, its flavor – or more accurately, its level of sweetness – wasn't overwhelming.
My third-favorite part of the meal, and the last part I'll discuss in this review, was the atmosphere in which the meal took place. I may be biased, because I enjoy coffeeshops in general, but I found a relaxing setting in nuVegan Café, as the voices of the people around me blurred into each other, and the music offered a backdrop to them, and the window inside the store's alcove offered the sky to all of us, dimming from afternoon to night.

About the Writer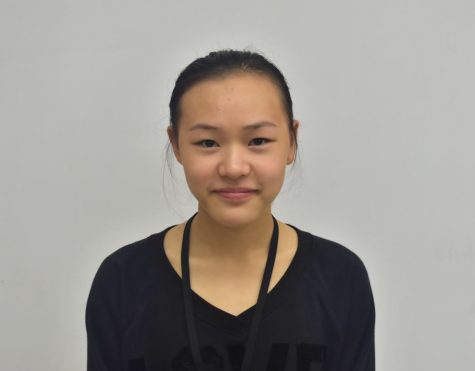 Bessie Huang, Co-Editor-in-Chief
Bessie Huang has been writing for The Raider Review since her freshman year. She has written a variety of articles for the newspaper, including book reviews,...