More Female Involvement in the MS-13
Hang on for a minute...we're trying to find some more stories you might like.
On January 8, 2017, two females, 15-year-old Damaris Reyes Rivas was stabbed 13 times by 18-year-old Venus Romero Iraheta in Springfield, VA. They were both affiliated with the widely-known gang MS-13. Newer MS-13 cliques in the United States are starting to allow female gang members.
The MS-13 is known for being very chauvinistic and giving female victims only two choices — either to get gang-raped and pimped out or to die. In the past some females were able to become gang members or "homegirls," but because of some wanting out and helping federal authorities, gang leaders banned new female members.
A lot of girls have fled El Salvador because of the dangers of being pulled into sexual slavery.  According to the Washington Post, "Girls make up nearly one-third of the 200,000 Central American unaccompanied minors detained at the U.S.-Mexico border since late 2012." Though many girls who have left to escape the MS-13 have found themselves back in the mix in the United States.
Female involvement has begun to increase. The murder of Damaris Reyes Rivas is a prime example. Venus Romero Iraheta and Damaris Reyes Rivas escaped from to San Vicente to the United States within weeks of each other. They both found themselves involved with the MS-13 anyway. Iraheta dated a member and Rivas house-hopped gang apartments. Rivas was suspected of being involved in the killing of Iraheta's boyfriend, which ultimately led to her being stabbed 13 times.
Females are usually victims, so their becoming the aggressors is uncommon with the MS-13. They are becoming attracted to the newer cliques in the U.S.
Freshman Tia Freeder said, "It's because it is something they are exposed to in their lives; they need people they want to be able to rely on, or their family is a part of the gang."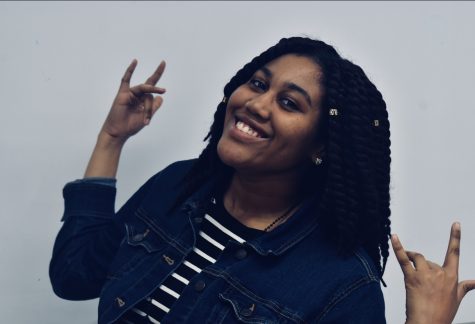 Londyn Mason, Opinion Editor
Londyn Mason is a senior and the opinion section editor.