Hawai'i Volcano, Kilauea, Erupts and Continues to Cause Damage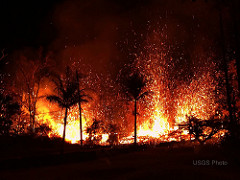 Hang on for a minute...we're trying to find some more stories you might like.
On Thursday, May 3, an earthquake shook Pahoa, an island in Hawai'i, and triggered an explosion of a volcano named Kilauea.  The earthquake caused damage to the island and force many people to evacuate.
According to an article in Vox News, "The seismic event kicked off with small cracks appearing on the volcano on May 1, according to the US Geological Survey." Two days later, a cloud of pink smoke appear over the volcano. On Friday, an earthquake with a magnitude of 6.9 shook the islands. This was the largest earthquake the islands had in forty-two years.
According to The Daily Express News, "Leilani Estates, located 12 miles east of Kilauea, has seen now 18 fissures open in the ground and more continue to develop." Volcanic fissures are linear volcanic vent through which lava erupts, usually without any explosive activity. These fissures keep causing more damage showing no signs of slowing. According to Vox,  "Two massive new fissures opened up on Hawaii's Big Island, the Kilauea volcano continued to squirt fountains of glowing lava into the air as high as 300 feet and spew toxic gas in its ongoing eruption".
The volcano resulted in evacuation order of about 1,700 residents on the island according to CNN News.  "Authorities pleaded with tourists and sightseers to avoid Leilani Estates, where lava and fumes were bursting through the giant cracks in the ground". The dangers of the volcano continue to worsen with toxic gasses and lava.  The toxic gas, sulfur dioxide, is a  "colorless gas with a pungent odor is often ejected in massive quantities during a volcanic eruption… it can make breathing difficult. Released into the atmosphere, it can change the temperature of the planet." This is one of the main reasons why this eruption is so dangerous.
Although this recent explosion has brought much chaos, this is not the first time Kilauea has erupted. According to Vox News, Kilauea is the Big Island's youngest and feistiest volcano, having experienced more than 30 eruptions since 1952, and has been continuously erupting at low levels since 1983.
Hawaii resident, Francesca Hammer was asked about what was going in the state. Francesca is a sophomore in high school and attends school on a military base in Hawai'i. Although she lives on a different island than the eruption, she said "I know here people are panicking about their families. However, the Hawai'i Ohana(family) is recovering together really well and basic things like churches are still going on. Also it's sort of an adventure a lot of people are checking it out…(even though they shouldn't)". Looting has started to happen in evacuated neighborhoods near the volcano damage. According to The New York Post, "Police on Hawaii's Big Island say they've arrested a man suspected of burglarizing homes in a neighborhood where lava forced evacuations".
According to Vox News, "'At this time eruptive activity is increasing and is expected to continue,' the County of Hawaii's Civil Defense Agency reported late Saturday". Hopefully, the damage will be restored and Pahoa, Hawai'i can return to it's calm and peaceful state.

About the Writer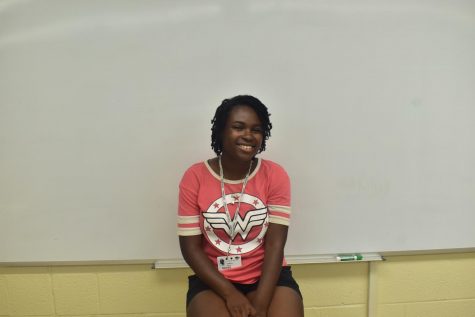 Nyla Howell, Staff Writer
Nyla is a sophomore at ERHS and staff writer for the Raider Review Newspaper. She enjoys reading books and listening to music. She also enjoys playing...