2 Bodies Discovered Near Pond in Oklahoma
Two African American men, Alize Smith and Jarron Moreland, were found dead on April 18th, 2018 by a pond near Moore, Oklahoma. The victims were shot, dismembered and dumped in a near by body of water.
The two 21-year-olds were reported missing days earlier before being found near the pond. They were allegedly meeting up with the killers to sell a gun from their craigslist advertisement.
According to ajc.com , Brett Boettler, 16, was charged with two counts of second-degree murder, unlawful removal of a dead body, desecration of a human corpse and possessing a firearm after delinquent adjudication. His brother, Kevin Garcia-Boettler, 22, was also charged with felony accessory to second-degree murder and unlawful removal of a dead body. Johnny Shane Barker, 43, is facing accessory to second-degree murder, unlawful removal of a dead body and desecration of a human corpse. The brothers' mother, Crystal Boettler, 40, is charged with one count of accessory to second-degree murder.

Many people, including ERHS students, have said that this is like lynching.
According to Snopes.com, Karlos Hill, Interim Director of African American Studies at the University of Oklahoma, explained that calling it lynching is going a little too far and is "a rhetorical flourish. But … the reason people may be labeling it as such is the brutality of the killings, and how that is reminiscent of the lynching era."
Senior Jerald Garcia said " WTF!  I don't understand why we're reverting back into the old times when lynching was common. I also don't understand why the press hasn't made this huge yet. This is an issue that needs to be addressed IMMEDIATELY."
According to snopes.com while the story was covered by "Newsweek, the Associated Press, the New York Daily News, and BuzzFeed… it wasn't covered by CNN, MSNBC, or other major networks."
Many people at ERHS  did not know about the matter.  Junior Hajr Mclean Ralph said " I haven't heard about the lynching and I don't recall hearing it on the news. It's just crazy how people are still like this."
Senior Jared Garcia also added " Like cmon now it's 2018 and I feel like the more we try to fight for rights for everybody, the more the more dominant race (whites) wanna oppress everybody. Like we can't we share and love each other?"
Senior Diavian Young said" I didn't know about the situation but I am glad they were caught and I hope justice is served for the 2 men who were killed."
AJC.com reported that, "According to court records, a $5 million bond was set for Brett Boettler. A $3 million bond was set for Barker and Garcia-Boettler. There also will be a court date on May 22nd."

There are some speculations on whether or not race had anything to do with the killings: the victims were African American and the killers were white. If racial motive was involved, then this could be considered a hate crime, but no such motivation has been proved at this time.
Junior Hajr Mclean Ralph also added "I think race had a big part in this, they knew the race of the young men when they were going into the sale. We don't know if they intentionally killed them knowing they were black or just because."
About the Writer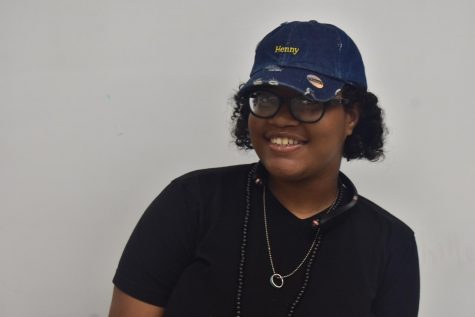 Angel Major, Student Life Editor
Angel Major is a senior at Eleanor Roosevelt High School. She enjoys baking for her business Touched by Angel Bakery.  Her favorite subjects are English...