ERHS Hosts Day of Solutions
Hang on for a minute...we're trying to find some more stories you might like.
On April 20th, 2018, in honor of the 19th anniversary of the Columbine shooting, Eleanor Roosevelt High School held a student-organized Day of Solutions in the auditorium.
The Day of Solutions involved registering students 16 or older to vote, either electronically or on paper, and allowing students under 16 to "write letters, ask questions, share your opinions" through postcards to their representatives. Other activities included "sticker-polling," where students wrote on sticky-notes to answer questions about what the school should do to end gun violence, and interacting with Pokuaa Owusu-Acheaw, a representative from Senator Chris Van Hollen's office, who provided information about the senator's position on gun violence.
According to his website, Senator Van Hollen is "committed to keeping up the fight to enact common sense measures" to battle gun violence and achieve more effective measures of gun control, such as "author[ing] legislation to help states implement handgun purchaser licensing laws" and improving access to mental health care as well as making background checks more intensive to make sure that mental health issues do not go unreported.
"I didn't have to register to vote, because I had already done so when I first signed up for my driver's license," said junior Caleb Wheeler, who went to the Day of Solutions mostly for the mental health aspect of the event. "Mental health is something that's very, very close to me, mainly because our system, at least I think, is ineffective at rooting out and solving problems in the first place…[Sophia Riazi-Sekowski's mom, who works in the congressional office, and I] were talking about better ways of having peers being able to notify the guidance office in a way that isn't intrusive or doesn't limit what they can potentially do for the person."
Freshman Sophia Riazi-Sekowski, who engineered and organized the event because she wanted to see "people raise their voices and have in-depth conversations about issues of gun violence," was in charge of publicizing the event and gathering the resources for its successful execution. "It wouldn't [have been] possible without the support and hard work of many others. My co-organizer was Nina McGranahan who was an amazing source of resources as far as voter registration. Volunteers at the Day of Solutions were the best that we could ever imagine."
Riazi-Sekowski mentioned that "we plan to continue voter registration and letter writing during lunches." She also hopes that "in the near future…we go to the offices of Senator Van Hollen and Senator Hoyer and meet with them."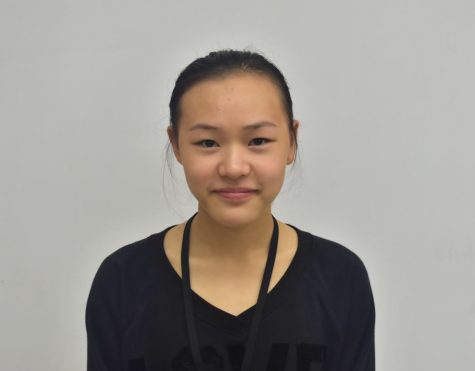 Bessie Huang, Co-Editor-in-Chief
Bessie Huang has been writing for The Raider Review since her freshman year. She has written a variety of articles for the newspaper, including book reviews,...