Free and Cheap Ways to Learn Languages
Hang on for a minute...we're trying to find some more stories you might like.
With Advanced Placement courses becoming increasingly emphasized in the college process, it may be hard to find the time to squeeze in an elective like Spanish or French, especially if you're not already advanced in it. While PGCPS requires you to reach a certain proficiency in a language course, after that point many drop off, mostly due to a lack of space to continue.
In the ever developing world of technology, however, it is becoming much easier (and cheaper) to learn a language through apps and online programs.
1. Duolingo- Duolingo is probably the most well known free way to learn a language, and can be extremely effective. All you have to do is download the app or go to Duolingo.com and create an account. After that, you can learn however many languages you want! They have well known languages, like Spanish, Italian, and French, as well as lesser learned languages such as Modern Greek and Hebrew. For some languages like Italian and Spanish, there is also a fluency percentage.
Mrs. Kathryn Bynum, an ERHS Spanish teacher, says "I think Duolingo is fun for people who are novice and intermediate level learners. …  I think there hits a point where a person who really wants to learn a language would have to look into other ways of learning to reach intermediate high and advanced levels of a language. It can certainly be a great way to get started."
Kaitlyn Smith, a member of the Korean club here at ERHS, says that Duolingo "does help with pronunciation," but "it's not very effective for everyday conversation."
2. HelloTalk- HelloTalk is not as discussed as some of the other apps and websites to learn languages, but is important nonetheless. It allows you to talk to native speakers in other languages that you may wish to learn, in order to both learn the natural dialect that you may not hear in apps like Duolingo and Rosetta Stone, as well as learn how to carry out a viable conversation. When you sign up, it asks where you're from and your native language, as well as what language you're learning and your language level; the levels range from beginner, elementary, intermediate, advanced, and proficient. After that, it will allow you to connect and interact with others on the app who are listed as "Best Match." You can voice call the person you are communicating with, or, with an upgrade, video call. However, a warning: as with any app or website to communicate with strangers, always be careful. Do not give your location, address, phone number, etc. HelloTalk also kicks off anyone who they believe is not there for its intended purpose, language learning. You may also block and report anyone on there, so with caution it is a pretty safe app.
3. Rosetta Stone- I know what you're thinking… "this article says free/cheap! Isn't rosetta stone like $60 or something?!" However, what you don't know is that PGCPS students get access to Rosetta Stone for free! Here's how to get it: First, go to pgcmls.info. Then, if you're on your phone, click on menu, then digital services, online resources, and then scroll down to languages. If you are on a computer, then when you go to the link click on learn a language (which should be in view when the link loads). Once you get there, click on Rosetta Stone; a page asking for your library card number should appear. There, you can just enter 'pgcps' and then your nine digit ID number. After that, it will ask for a username and password. For the username, enter your PGCPS email. For the password, just create one, and voila!
4. Quizlet- While this isn't an intended language app, it can easily be used as such. When paired with Duolingo or Rosetta Stone, it can actually be rather effective. All you have to do is, when you come across a new vocabulary word, put the word and it's english meaning into quizlet; after you have accumulated a few words, or just whenever you feel, simply use one of quizlet's study features, including "cards," "match," "test," or, the one I find most effective, "learn." In "learn" mode, you can go through each word in either multiple choice, written, true/false, or all of the above until you get each correct twice. If you get one wrong, you must repeat that specific word later on. From my experience, this makes apps/programs like Rosetta Stone more effective: they teach you vocabulary, but don't run through each word enough to fully memorize it. With quizlet, you can practice the vocabulary as often as you want, and even choose specific words to focus on.
Despite all this, if you wish to become more advanced in your language learning, it is imperative to immerse yourself in the culture. Mrs. Bynum says "I think the best way to learn a language is to travel, take classes and immerse yourself in the language and culture. You have to force yourself to speak! Make mistakes and learn for them. There are a lot of website that help to facilitate language exchanges through writing and video chatting but I think it's easy to get distracted by life and never follow through on those ideas."
Mr. Hubert Willoughby, another ERHS Spanish teacher agrees. He says that "complete immersion in the language and culture has been proven to be the best and most reliable way.  Nothing beats living among the people and 'acquiring' (not learning), the language. One is forced to start thinking almost immediately in the target language and living the culture. If this isn't possible, then creating an environment where students are able to be engaged in both the productive language skills (speaking and writing) as well as the receptive ones (listening and reading) would be highly recommendable.  Interfacing with native speakers is also great….this could be done both in person or online given the many platforms now available for visual/oral communication using the internet.  Youtube allows for great, authentic insight into many cultural/traditional practices."
Senior Dustin Ma, who's in AP Japanese with Mr. Ogawa, says that "I started learning Japanese by myself in my first year of high school. I was really interested in Japanese culture and the language at the time so I really wanted to learn it. I could not take Japanese class in my first year of high school so I just self-studied." On the best way to learn a language, he says that "I believe there is no general best way to learn a language. Some people find it easier to memorize by writing it down over and over or taking quizzes. The consistent amount of time invested into studying everything and practicing is the most important. This includes learning grammar, memorizing words, writing, etc. Practicing speaking the language is important as well."
Smith further believes that you shouldn't "rush the learning process, have fun with it[.] If you think learning the language is a chore then make it enjoyable!"

About the Writer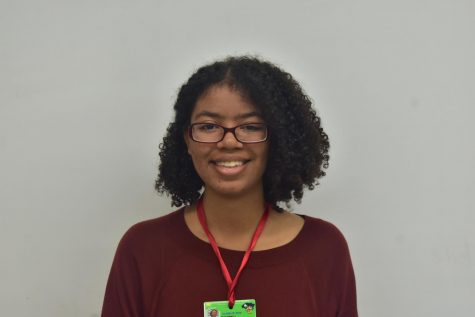 Kendall Chappell, News Editor
Kendall Chappell is a senior at Eleanor Roosevelt and the current News Editor of the Raider Review. She enjoys reading, writing, and cooking. In college,...