The First Step To Better Black Representation Is With Black People
Hang on for a minute...we're trying to find some more stories you might like.
With the recent release of the new Marvel Studios' "Black Panther" boasting a large selection of black actors, many black people are expressing joy because they are finally feeling represented in a positive light, where black people like themselves aren't shown as stereotypical thugs or comedic relief characters.
Black Panther is definitely a step in the right direction for better representation of black people but, it shouldn't take two white guys who made a character in a comic in 1966 for people to feel this way. It's time we as black people step back, take a look, and let Black Panther be a sign that if we want a change, we need to start it ourselves.
In a CNN article titled "'Black Panther' inspires more than African Americans" a line within the article really stuck with me because it's similar to the mass opinion that I'm hearing: "I could hear the emotion in the voices of African-American listeners who spoke of growing up and seeing black people almost always depicted as criminals and drug addicts in film."
While I do think movies like "Boyz n the Hood", "Juice", and "Dope" are great movies and are important to the culture and need to be created. There's definitely a large flood of films like them. So I bring up the question of what's stopping black people from making their own super hero to represent them? To represent us? To show there's more than pain and poverty in being black?
"Boyz n the Hood," "Paid in Full," "Menace II Society," "Belly," "Juice" and other movies written and produced by black people and staring majority black casts are all extremely important in showing those who may not know or experience what it's like growing up black and in poverty. When it comes to the thug stereotype of black people in movies, it falls to a change beginning with black people.
Even comedy movies where black people are usually known as the funny side kick, angry or "ghetto". We should start looking at black actors and creators to look for better roles or better films.
How many times do we need to see Tyler Perry dress up as an old woman and have a short fuse? How many times do we need to see Kevin Hart tag along with the protagonist making height jokes? How many times do we need to see Ice Cube portraying an angry for nothing black man? How many times are we as black people gonna flood the box office for this and complain about our representation to people? It's time that we expect more, and do more.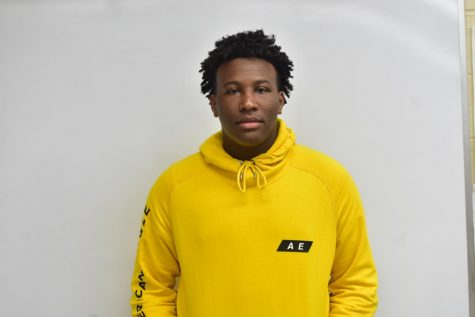 Ethan Philpott, Arts & Entertainment Editor
Ethan Philpott is a senior and the Arts & Entertainment Editor. Ethan plans on studying journalism in college next year, and would like to report on...