Raiders Boys' Basketball Season Overview
Hang on for a minute...we're trying to find some more stories you might like.
Throughout the Eleanor Roosevelt Boys basketball team's journey, they finished the season 14-2 in conference play and won 2 playoff games. However, they fell short to the determined Bladensburg Mustangs on March 3rd in the 4A South Region title game. The final score was a victory for the Mustangs, with a score of 83-81. During this season, the Raiders made an epic comeback from 22 points down against the Bowie Bulldogs, and then won a tough overtime victory against this year's 4A county Champions, the Wise Pumas.
The Raiders also won the regular season match up against the Mustangs by a score of 55-52.  However, the Raiders' promising season came to a close when they lost an exciting home game in the 3rd round of the playoffs; despite this, guard Isaiah Gross showed great potential for next year, scoring a season high of 28 points. The Raiders will lose 4 seniors this summer: Jaden Faulkner, Anthony Davis, Justin Bailey, and Miles Allen.   
According to Junior Isaiah Gross, he feels this season he really improved on "my jump-shot and tough finishing at the basket." Gross said "my pregame ritual is just listening to music before games." Each players on the team chooses their jersey number; Gross " choose 25 because I like numbers in the twenties." Next year Gross will be back and looking to lead the raiders to a state championship. "My goal is to have a championship ring on my finger."
Senior guard Jaden Faulkner had a good season and showed leadership skills. Faulkner describe his relationship with his teammates as "we really didn't trust each other in the beginning but as the season went on we became brothers." He said "my leadership made our team way better than we were." Faulkner was a part of the 2014 championship team and helped lead a 22 point point comeback against Bowie in this year's playoff game. While  leaving his legacy and being a part of the 2014 championship team, his advice for the team next year is that "leadership is key, stay humble and believe every game."
Upcoming senior Jaamir Butler, who contribute to the Raiders' bench production this season, thoughts on the season ending at home is that "we ended our season making a great comeback the ball just didn't bounce our way this time." Butler said "this season I helped the team by giving them momentum boosting points that helped us out of some ruff times in the game."
While falling a few games short of a championship, the Raiders still had a great season and definitely have something to build on for next year. The long journey starts all over again as the Prince George's 4A division calls it " The Road to States" with training and summer league games/tournaments coming up this off season.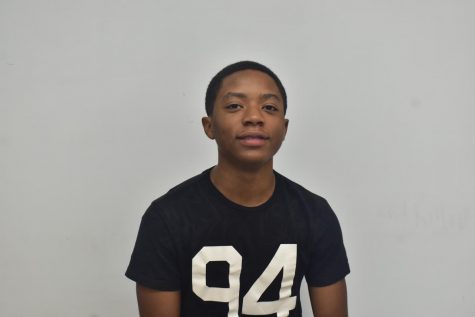 Kobe Broadwater, Sports Editor
Kobe is a junior at Eleanor Roosevelt high school and sports editor.  He enjoys Chick Fil A's fries and lemonade. Kobe enjoys sports and pursuing on becoming...