ERHS Holds Science Fair on February 14, 2018
Hang on for a minute...we're trying to find some more stories you might like.
On February 14th, 2018, Eleanor Roosevelt High School hosted its annual science fair in the school gymnasium, which was packed with students, projects, and volunteer judges.
The 1st-place winners of this year's science fair, in each respective category, are listed below:
Animal Sciences – Samia Shell
Behavioral Sciences – Molly Moor
Biochemistry – Alexis Ayukateh
Biomedical & Health Sciences – Anna Meade
Cellular & Molecular Biology – Teresa Ozga
Chemistry – Selim Boukabara
Computational Biology & Bioinformatics – Jasmine Booker
Energy – Chemical & Physical – Melissa Jones
Engineering Mechanics – Brandon Wilson
Earth & Environmental Sciences – Maximiliano Gonzalez-Cruz
Mathematics – Teresa Thoundayil
Microbiology – Enya Caballero
Physics & Astronomy – Dennis Miranda-Cruz
Plant Sciences – Gabrielle-Demi Morris
Robotics & Intelligent Machines – Erika Jackson
The 1st-place grand prize winner was senior Dennis Miranda-Cruz, and the two 2nd-place grand prize winners were senior Teresa Ozga and sophomore Melissa Jones.
Sophomore Melissa Jones created a biodegradable, paper-and-carbon based battery for her project this year. "In short, it's a battery that is comparable to normal AA batteries, but is a fraction of the cost and is very easy to make.  You can print it on paper, and its rechargeable," Jones explained. "I got the idea from an article I read about scientists trying to make a 'super battery' out of graphene.  Their project was pretty cool, except for the fact that graphene is extremely expensive to make, so the goal of my project was to make a simpler and more accessible version of their battery."
Jones said that the science fair "lasted nearly the entire day" for her. "[It] was a little tiring, but I definitely had a lot fun with the people I stood next to, and got to make some new friends."
Senior Jerald Garcia, whose project was based on his Research Practicum and involved studying the correlation between water quality of certain countries and their latitude, remarked that this year's science fair took substantially longer for him than previous science fairs. "I stood for three periods straight…I didn't appreciate it." He also said that he "cared a little less" about this year's science fair than the science fair he participated in two years ago as a sophomore, attributing it to senioritis.
According to senior Annie Gomez-Marroquin, seven volunteer judges were missing from the science fair because they had canceled their positions last-minute, which increased the amount of time many students had to wait to present their projects. Gomez-Marroquin brooded that she had to wait "for almost five periods. And we didn't even get to sit down."
Some students were more lucky. "I was in a smaller category this year [than sophomore year] and got released much earlier," said senior Samantha Smith. Her project was on water disinfection: "I tested iodine tablets and chlorine tablets on water samples from Greenbelt Lake… I found that both methods were effective, but that there was no significant difference between the effectiveness of either."
Ultimately, however, Smith has quite a cynical view of science fair. "[It's] hours of work and hours of standing just to speak with a judge for a minute or two."

About the Writer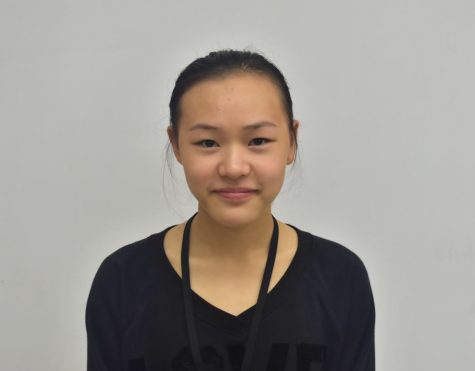 Bessie Huang, Co-Editor-in-Chief
Bessie Huang has been writing for The Raider Review since her freshman year. She has written a variety of articles for the newspaper, including book reviews,...