ERHS Wrestling Team Ends Season Strong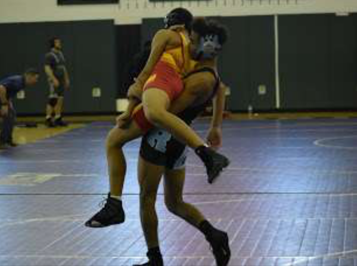 Hang on for a minute...we're trying to find some more stories you might like.
The ERHS wrestling team has had a excellent season this year. It began with a 3-1 start this season, led by their new coach Mr. Robert Nusum and varsity captains Christian Bryant, Andrew Thomas, and Emmanuel Nchako. 
According to Senior Destin Palevoussa, on their previous match against Great Mills High School, "We lost. However, it was a competitive match up. We got some pins, then they just got a little more pins. We will get them in a couple of weeks when we meet again." Palevoussa stated he believes that the new coach Nusum is a "cool guy and knows what he's doing. I'm learning as much as I can." 
Junior Christian Bryant (aka Hercules, according to the wrestling team) ERHS Varsity Wrestling Captain said "at times it gets a little overwhelming. But…I will work my hardest to produce the best wrestlers in this state." Bryant finished 3rd last year in the state, but does not worry about rankings. "When you go out there and wrestle anything can happen," he stated. However, he stays focused on the goal to "take it all this year and win states as a team." Bryant's evaluation of the team's strengths and weaknesses were that "we have amazing athleticism. However, we tend to rely on pure strength vs. technique, which could be challenging on teams outside this county."
Senior Emmanuel Nchako said of his view on the season that "it's been going good. I'm very confident about this year."  The wrestling team's chemistry this year is excellent. "We improve every day as a team to hopefully achieve our goal to win a state championship."  Also, Emmanuel stated that Coach Nusum is "really helpful to the team and helps us get college exposure."
The wrestling team is definitely something to be on the lookout for.  They have a well-balanced team with a lot of strength and athleticism. Even though the season is still early, state championship goals are on the mind of every member of the team.