Staff and Students at ERHS Debate Gun Control
Hang on for a minute...we're trying to find some more stories you might like.
In recent weeks, mass shootings have become more common. Due to the recent shootings, a controversial topic has been up for debate again– gun control.
Studies show that the U.S is #1 in the world for gun violence if you compare it with other affluent nations on a per capita basis. CNN reported that "2 of the 5 deadliest mass shootings in modern US history happened in the last 35 days."
According to CNN, the Las Vegas shooting occurred on October 1, 2017 at the Las Vegas Strip in Nevada. The gunman opened fire on the crowd at the Route 91 Harvest music festival, leaving 58 people dead and 546 injured. The shooter, Stephen Paddock, owned over 40 guns, which is legal in Nevada. This state has generally permissive gun laws and has resisted efforts for tighter gun control.
Not too long after this incident, another mass shooting occurred on November 5, 2017, at the First Baptist Church in Sutherland Springs. The gunman, Devin Patrick Kelley, injured 20 people and killed 26. Among the victims, eight of them were children. Kelly did not have a license to carry firearms, but still managed to purchase one easily at a gun shop.
Although there have been many mass shootings before, people's fears and paranoia has increased tremendously, due to the latest events. While some blame guns as the reason for murder, others blame people. Should more gun control laws be enacted? A few people at Roosevelt shared how they feel about gun control.
Mr. Anthony McMillan, a social studies teacher, said "I am for owning guns under the current system. I think gun laws should be passed so the people who are mentally unstable or violent offenders can not get them. However, as long as the government allows people to own guns I plan to be one of the people who has one because it is better to have it and not need it then to need it and not have it."
Mr. Patrick Gleason, a English teacher, stated "I am personally against guns for people's safety because if no one has a gun, then why do you need a gun to protect yourself? I think the majority of mass shootings can be prevented if automatic and semi-automatic weapons are outlawed because then it is difficult to reload the weapons. If you look at countries like Japan with very strict gun laws there is also an incredibly low violence rate."
Junior Mikayla Morton said "I am for guns only when used for the right situation. I think there should be more gun laws passed, because then maybe there won't be as many crimes committed.I think that people should be eligible to own guns for their own safety but guns shouldn't be so easy to buy."
Sophomore Kayshon Wright stated "I don't really have a bias for guns but I️'m not against them either, i do believe more gun laws should be passed to regulate use of guns and i do believe people should be eligible to own guns for their safety."
Sophomore Duane Woodson, stated "I'm with neither side really because either way people are going to use guns for the good and the bad."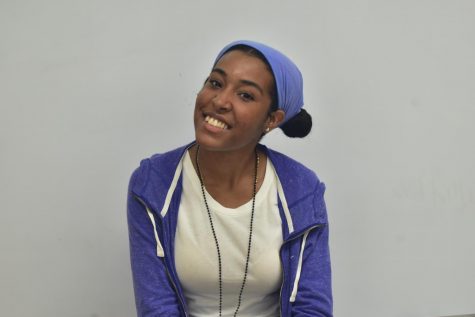 Ayanna Jones-Reid, Staff Writer
Ayanna Jones-Reid is a senior at ERHS and a staff writer for the Raider Review newspaper. She enjoys writing stories on her free time and plans on becoming...