According to Some Students, ERHS is Overpopulated
As of September 21, 2017 there are 2,641 students enrolled at Eleanor Roosevelt High School.  The problem is that,  according to a presentation by the PGCPS Department of Capital Program, the capacity for the school is 2,096.
According to the September 12 Community Meeting presentation, ERHS's utilization this school year is at 120% of capacity and is projected to grow to 129% by the 2023/24 school year.
Many students said it is noticeable growth and that overpopulation has impacted their punctuality. Sophomore Dave Hines said "I like it, but it makes me late to class and it's not my fault."  
Others, like senior Adan Argueta-Figueroa said that "we need a bigger school!"
On the other hand, there are some staff members who said they think the school is not as crowded this year as it has been in previous years.
TV Production teacher Ms. Allison White said that the school did not feel more crowded "compared to 2015 it is so much better." In an email, Principal Mr. Reginald McNeill said, " I don't think the hallways are any more crowded than in previous years."
In addition to ERHS there are 6 other Prince George's County high schools that are over populated: Bladensburg, High Point, Laurel, Northwestern, Duval and Parkdale High Schools.
According to the DCP presentation, there are three permanent long term solutions to the problem. Add a new high school, expand and renovate existing schools, and comprehensive redistricting to balance enrollment among new and existing high schools. They also offered four short term solutions: staggered school start time (split schedule), morning and afternoon shifts, add temporary classrooms, and to adjust school boundary to balance enrollment.
An additional community meeting will be held at Northwestern High School on October 5 at 7 p.m. to continue the discussion about overcrowding.
About the Writer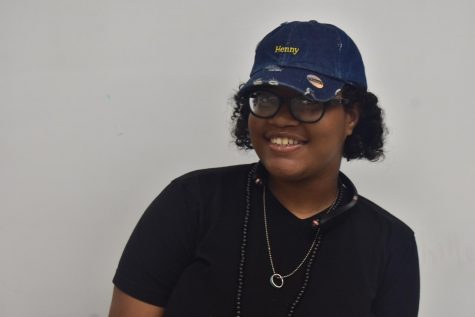 Angel Major, Student Life Editor
Angel Major is a senior at Eleanor Roosevelt High School. She enjoys baking for her business Touched by Angel Bakery.  Her favorite subjects are English...