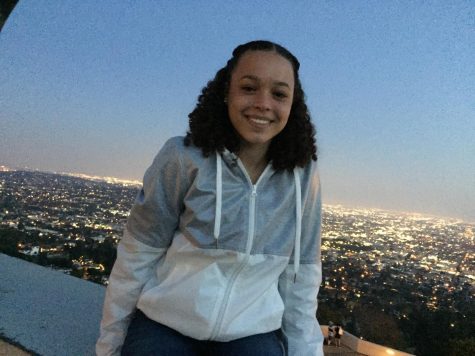 Mykenna Maniece is one of the new Co-Editors-in-Chief of the Raider Review for the 2018-2019 school year. Her interest in journalism began to grow throughout her freshman year as she gained more confidence in her writing. She enjoyed reading the various articles the Raider Review published, especially those focused on school sports and social activities, but due to other commitments she was unable to join the staff until early 2018.
Her passion for writing was revealed through articles that covered topics from Gun Control to a teacher feature. Now, as a senior, she is excited to become even more involved and make a positive impact on the paper. She plans to write articles centered around the arts, entertainment, and politics. In addition to her interest in journalism, she plays both club and Varsity soccer and participates in the French Honor Society. FHS has helped fuel her interest in travel and other cultures, both of which are aspects journalists 
have the possibility to experience by being foreign correspondents. She finds the idea that a journalist can travel the world and bring awareness to issues that would otherwise go unnoticed to be inspiring.
Outside of school, Mykenna enjoys listening to music, reading, and photography. She will be pursuing all of these interests and more in the near future at Syracuse University. 
Mykenna Maniece, Co Editor-in-Chief
May 17, 2019
Feb 14, 2019

STEM Fair Results

(Story)

Feb 11, 2019

Government Shutdown Affects ERHS Families

(Story)

Jan 22, 2019

What It's Like To Be Me: A Father, Teacher, and Coach

(Story/Media)

Nov 16, 2018

Students Agree CNN Should Sue Over Acosta's Revoked Press Pass

(Story)

Mar 27, 2018

Students and Teachers Share Gun Control Concerns

(Story)

Feb 20, 2018

Teacher Feature: Mrs. Toni Haynes

(Story)