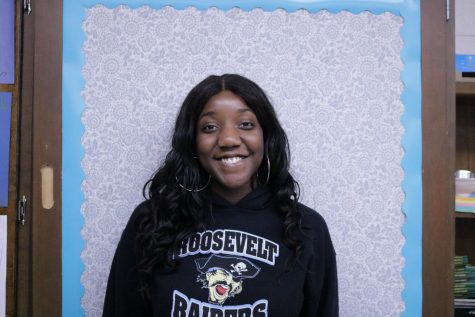 Chinazam is a senior at Eleanor Roosevelt high school.
She is currently in the Science and Technology program and, finds 
joy in writing. Uhegwu is a poet and enjoys entertaining individuals 
through spoken word poetry. Uhegwu is also a chem whiz at heart. 
She has devoted her time into studying social issues and learning how 
to go about them.
Wanting to bring more awareness to not only 
politics on peers but the art of expression, Uhegwu decided to join 
journalism in her senior year. Journalism has always held weight 
in societal knowledge beyond Eleanor Roosevelt. Uhegwu knew 
that joining journalism would build not only her way of formally 
addressing issues, but would build her character in face of those issues  
as well. Chinazam did not forget about the other valuable parts of journalism. 
Chinazam plans to be right in the sidelines capturing all the 
gracious athletes of Eleanor Roosevelt. Uhegwu has other interests 
besides journalism. These interests includes expression through the poetry club,  
social awareness in black student union, decoration, tutoring and working her
long hours at the diner.
Chinazam Uhegwu, Staff writer and Advice Columnist
May 16, 2019
May 16, 2019

What does ERHS mean to you?- A senior piece

(Story)

Feb 12, 2019

#AskChi: Suspicious and High School Sweetheart or Not

(Story)

Jan 22, 2019

What It's Like To Be Me: Living with Diabetes

(Story)

Nov 28, 2018

California Shooting prompts gun control discussion among ERHS students

(Story)