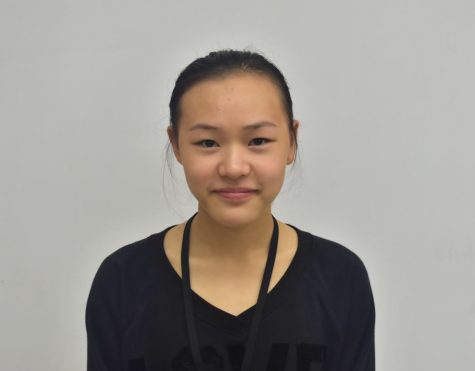 Bessie Huang has been writing for
The Raider Review
since her freshman year. She has written a variety of articles for the newspaper, including book reviews, political reports, and opinions. Although she does not plan on pursuing journalism as a career, she hopes to continue with it in college for fun. She is confident that the qualities it promotes, and the things she learns from it, are transferrable to any field of work she may choose.
When she is not producing or editing articles for the school newspaper, Bessie may claim to be trying to find sources of inspiration for her creative writing. It is a satisfyingly eclectic activity, as she is able to classify under "finding inspiration" methods that range from exploring new places to enjoying good music.
Besides writing, period, some other things Bessie is fond of are reading, practicing yoga, rock climbing, and organizing her life through lists.
Bessie Huang, Co-Editor-in-Chief
Mar 07, 2019

A Conversation with ERHS Alum Dexter Carr Jr.

(Story)

Jun 12, 2018

President Trump Backs Out of Iran Deal

(Story)

Jun 12, 2018

Mrs. Susan Vincent Retires From Teaching at ERHS

(Story)

Jun 12, 2018

Restaurant Review: nuVegan Café in Washington, DC

(Story)

May 21, 2018

PGCPS Chief Executive Officer Kevin Maxwell Resigns From Position

(Story)

May 10, 2018

ERHS Hosts Day of Solutions

(Story)

Apr 20, 2018

Everything I Never Told You: Book Review

(Story)

Apr 09, 2018

PGCPS Board of Education Restores Spring Break

(Story)

Mar 26, 2018

National School Walkout: Audio & Transcription

(Story)

Mar 11, 2018

ERHS Mock Trial Team Beats Previously Undefeated Northern High School

(Story)

Mar 11, 2018

LGBTQ+ Representation in the 2018 Winter Olympics

(Story)

Feb 27, 2018

ERHS Holds Science Fair on February 14, 2018

(Story)

Feb 27, 2018

Book Review: Sad Girls

(Story)

Feb 16, 2018

The Science of Love

(Story)

Feb 12, 2018

ERHS Reactions to Trump's First SOTU Address

(Story)

Dec 19, 2017

PGCPS Adjusts Snow Plan to Reflect New Calendar

(Story)

Dec 07, 2017

Student Feature: Annie Gomez-Marroquin

(Story)

Dec 05, 2017

Rodger's & Hammerstein's Cinderella: A Review

(Story)

Nov 14, 2017

ERHS Students Show Their Style

(Story)

Oct 05, 2017

Teacher Feature: Mr. Robert Nusum

(Story)

May 18, 2017

Students Discuss Prom Costs

(Story)

May 09, 2017

Book Review: When Breath Becomes Air

(Story)

Mar 22, 2017

ERHS Reacts to the Rescinding of Transgender Rights in Schools

(Story)

Dec 07, 2016

Politics in the Classroom: Discussed or Avoided? Student Opinion

(Story)

Nov 29, 2016

Tips and Tricks on How to Study

(Story)

Nov 01, 2016

Book Review: Lab Girl

(Story)

Jan 13, 2016

Mockingjay, Part 2

: Portraying Cynical Unsuccessfully

(Story)

Jan 07, 2016

Teacher Feature: Ms. Jenny Pacheco

(Story)