Behind the Scenes with SGA
What is the Student Government Association? 
The illustrious Student Government Association is an organization filled with like-minded individuals who all strive for the same goal, which is to lead the student body of Eleanor Roosevelt High School. With a booming amount of diversified opinions, the SGA is able to create numerous events and activities that students can look forward to. There are many unique committees and roles that allow each leader to flourish. 
Why the SGA?
Upon my own experience joining the SGA, I realized that many of these leaders exude innovativeness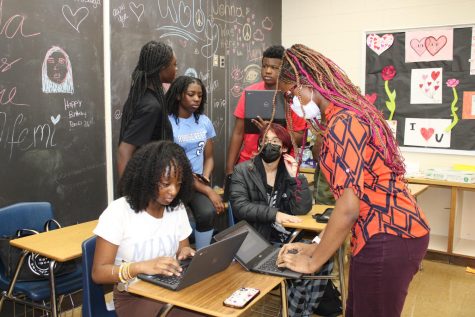 and creativity. The environment is comfortable, and it makes me feel like my voice and opinion are actually being heard. When I speak, it never ceases to amaze me how one organization can come together to collaborate on topics that affect the Roosevelt student body. With that being said, the SGA will soon be taking applications for the 2023-2024 school year and I urge our students to take a chance on their own abilities and come join the Student Government Association.
How does the SGA do it?
The SGA meets on the last Monday of every month at 3:30 to converse about future events and activities. The wonderful SGA sponsor Ms. Truesdale and the Co-Sponsor Ms. Sterling hold these meetings. They always make room for student updates on any projects they have worked on, as well as newly presented ideas for the forthcoming. I love the welcoming setting and the utmost support Ms.Truesdale gives us.
What does the SGA do for their community?
The SGA has hosted many school-wide events this year for all Eleanor Roosevelt students. This includes The Homecoming dance, themed A Night in Hollywood (back in October), as well as the Roose Olympics, which was an extravaganza sports event. Now the SGA is running the Teacher's Appreciation Spirit Week. The SGA's job is to commemorate student and staff achievement with events, as well as being a tool of advocacy for many student-related issues. The SGA communicates with individuals through different platforms, such as Instagram(@RaiderSGA) and TikTok (@raidersga). Through this, the members of the Student Government are able to act as a gateway between the administration and the student populous. 
The gallery below features images from the SGA's latest events!