Teacher Feature: Ms. Amie Littman
Hang on for a minute...we're trying to find some more stories you might like.
A new school year at Eleanor Roosevelt brings with it the addition of many new teachers, including Ms. Amie Littman in the English Department.
Ms. Littman said that from a young age, she knew she wanted to be a teacher. She attended the University of Maryland, College Park and double majored in English Language and Literature and Secondary Education. She then went on to work as a student teacher at High Point High School.
She moved just a few miles south to Eleanor Roosevelt High School this year, a move she said gives her more autonomy teaching her 9th and 11th grade English classes.
"I have more freedom in teaching my classes," said Ms. Littman, who feels as though at ERHS she will be able to "come up with new ways for students to learn."
Since the beginning of the school year,  Ms. Littman has already become a vital member of the community. She said she "likes teaching here a lot" and feels that the Roosevelt staff has been "extremely supportive" as she adjusts.
"Ms Littman is very kind and open-minded, which is a good quality for the English Department" said fellow English teacher Mr. Patrick Gleason."She cares a lot about her students and her job."
Students also report that Ms. Littman is fitting right in at Roosevelt. They said they are learning a lot and enjoying her class. Freddy Rodriguez, a junior, remarked that Ms. Littman's class is "the only English class [he's] ever not disliked." But more than not disliking her class, Freddy also admits that he feels he is learning "better essay writing techniques."
"I definitely think I am going to stay," said Ms. Littman. In the coming years, she said she hopes to learn new ways to educate her students as well and bring them into the digital age.

About the Writer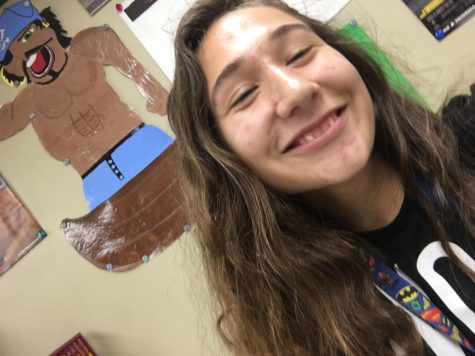 Louisa Ellison, Writer
Louisa Ellison, a Science and Technology junior at Eleanor Roosevelt High School is taking journalism for the first time this year. She is taking Journalism...