#TakeAKnee: When First Amendment Rights Apply to Only 77% of the Country's Population
Hang on for a minute...we're trying to find some more stories you might like.
According to the commonly quoted First Amendment of the Constitution, American citizens are granted the right to peacefully assemble and to petition the government when they feel wronged – all without government intervention.  They are given the right to assemble, to share, promote, and develop their opinions and to express their grievances in the hope of generating change.
Except when a large majority of the American population disagrees with allowing you these rights. Except when the lawful, peaceful assemblies you organize are met with trigger-happy cops armored with tear gas and riot gear. Except when large corporations are legally able to deny you jobs because you've decided to express these constitutional rights. Except when you're black.
The name of Colin Kaepernick was spread across the titles of news and opinion articles for weeks after he decided to put to use these rights. To this day, threatening promises from avid football fans and conservative Trump supporters grace all platforms of social media. The truth: that he had kneeled during the National Anthem that football-goers are forced to hear before the games in attempt of raising awareness of police brutality had been twisted and warped to no end.
His message of 'stop killing us for being black' turned into him having no respect for the 'strongest men of the nation' who risk their lives to 'maintain our freedom' and extort other countries for their natural resources and that he hates white people. It turned into him 'demanding handouts' and using racism as an excuse to whine.
Even Donald Trump, one of the most influential politicians as the US president, voiced his opinion at a rally in Alabama, called Kaepernick a "son of a b—–" and demanded he be fired for protesting. According to TMZ, a University of Nevada Reno police officer was seen at a halloween party wearing a Kaepernick mocking costume, featuring a afro-wig, a fake nose, and a sign reading "Will stand for food."
As Travis Janes (@travis_janes) said on Twitter Kaepernick's protest is about "African American[s] get[ting] shot by police" and being profiled by law enforcement."
Whether you agree in what he is fighting for, his ability to express his rights as granted by the First Amendment is not up for argument; when influential figures like cops and the president attempt to restrict his rights because of their personal opinions, the constitution that was already written by white people, for white people becomes more ineffective for ethnic minorities.
The Constitution can not claim to be "For the people' if the rights it entails are enforced for only the majority of the people.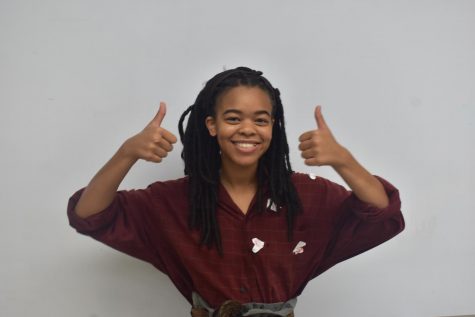 Dayana Foster, Managing Editor
Dayana Foster is a junior at ERHS and the Managing Editor of the Raider Review.